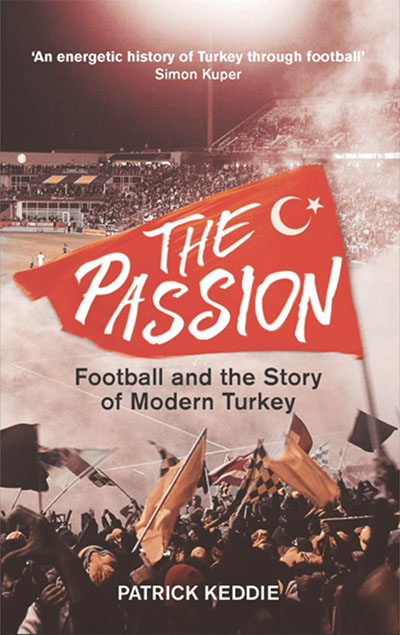 LB Tauris, £16.99
Reviewed by Richard Mills
From WSC 387, June 2019
Buy the book
When the first Turkish-Muslim team was established in 1901, an Ottoman military court put its founder on trial: the game was deemed a threat to Islamic morals and a potential gathering point for subversives. It captured the nation regardless, forcing subsequent regimes to embrace it as a bastion of Turkish society. Patrick Keddie, author of The Passion, explains that today "you don't bother to ask whether someone likes football, you just ask which team they support".
Keddie investigates football in President Recep Tayyip Erdogan's Turkey during a momentous and deeply turbulent period. Fuelled by social conservatism and patriotism, Erdogan's Justice and Development Party has capitalised on the popularity of the game ever since coming to power in 2002, investing huge sums into an insolvent industry and building stadiums across the country. The widely reported political travails of Erdogan-era football are central to Keddie's book: the match-fixing scandal of 2010-11, which cast a shadow over Fenerbahce's title win and implicated many clubs; the Gezi Park protests of 2013, when 35 Besiktas ultras were charged with trying to conduct a military coup; the 2016 terrorist attack outside Besiktas' stadium which left 44 dead; and the introduction of the despised Passolig e-ticketing identity card system, designed to rein in wayward football fans and gentrify the terraces, but causing attendances to plummet.
Yet Keddie's journey bursts into life when he leaves the storied clubs of Istanbul behind. Numerous conversations over tea and beer in the bazaars of provincial cities offer vivid snapshots of a diverse society. In patriotic Bursa, he tells the violent history of a defunct leftist club and speaks to members of an ultranationalist fan group. In Trabzon, he observes the high-stakes electioneering for the club presidency. Keddie visits clubs that embrace Ottoman folklore, fans seeking to shed light on the multicultural past of Aegean ports and grassroots teams advocating LGBT rights. He describes the stoic exploits of the country's first openly gay referee, professionals struggling against the religious conservatism of their communities in the women's game and a former Syrian international running children's training sessions in a refugee camp.
A gripping chapter charts the remarkable cup run of third division Amedspor. This club, from the Kurdish majority city of Diyarbakir in south-east Turkey, took mighty Fenerbahce to a quarter-final replay in 2016, having knocked out two other Super Lig teams in previous rounds. This was impressive enough, but the run unfolded at a time when cities in Kurdish areas were subsumed by violence between rebels and the Turkish military. Districts of Diyarbakir were pounded to rubble, as Amedspor took on the mantle of "Kurdistan's team" for many members of Turkey's largest minority. Amedspor's fans were banned from both quarter-final matches, while Deniz Naki, the star of the team, was subsequently charged with "promoting terrorist propaganda" on social media. The episode, like many others in the book, captures the power and volatility of the Anatolian game.
Like all decent football books that venture beyond British shores (and some that don't), Keddie's travels had me searching for budget flights.