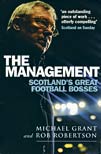 Scotland's Great Football Bosses
by Michael Grant & Rob Robertson
Birlinn, £18.99
Reviewed by Craig McCracken
From WSC 298 December 2011
Scotland's uncanny knack of producing football managers of the highest calibre over the past century continues to perplex and fascinate in equal measure. Few footballing subjects have inspired as much analysis, with Michael Grant and Rob Robertson's book being the latest addition to this busy genre.
The Management is a deeply impressive work, encyclopaedic in its range and scope. It is not devoted simply to the greats or the greatly quotable. Much of the book's joy comes from stories of the lesser-known figures who have added their own small but inimitable contribution to the legend of the Scottish manager – a venn diagram comprising overlapping circles of genius and madness.
The big four of Bill Shankly, Jock Stein, Matt Busby and Alex Ferguson feature at the heart of the book. Most details of their lives have been documented already, but through numerous conversations with friends, families and colleagues, the authors succeed in adding new insights and notable anecdotes to their histories. In extensive, open-ended interviews the subjects are given time and space to talk at length about their careers.
Eddie Turnbull, for example, who had an impressive career, notably at Aberdeen and Hibernian, is referenced as a role model by many other managers here. He appears to be a man who took to his grave a bitterness about how forgotten he became. Billy McNeill, meanwhile, still seems in denial about why his career stuttered through his unerring ability to pick the right jobs at the wrong time.
There are few Scottish characters as endlessly complex as Jim McLean and his sobering story is a high point here. Seemingly only ever a bad refereeing decision away from spontaneous combustion back in the day, now McLean appears a deeply embittered man who regrets the single mindedness that took such a toll on his personal life. His is an object lesson in the huge physical and mental toil management can take on even the most successful individuals, a story that is sensitively handled by the writers.
The book is awash with the bone-dry humour that seems hardwired into the DNA of the typical Scottish manager. While renowned comedians like Shankly and Tommy Docherty entertain enormously, the funniest anecdote here is provided by the dour McLean. Sharing a room with Ferguson on a coaching course, he discovers the young manager was married just the previous day. "Well you're not having your honeymoon with me," deadpans McLean.
The Management is an ambitious and affectionate celebration of the enormous contribution Scottish managers have brought to the sport and the reasons behind their success. Us Scots are often guilty of introspection with regards to our diminished status in the world game. It is a credit to Grant and Robertson that their stirring book will bring a welcome swelling of pride in our own, even for the most cynical among us.