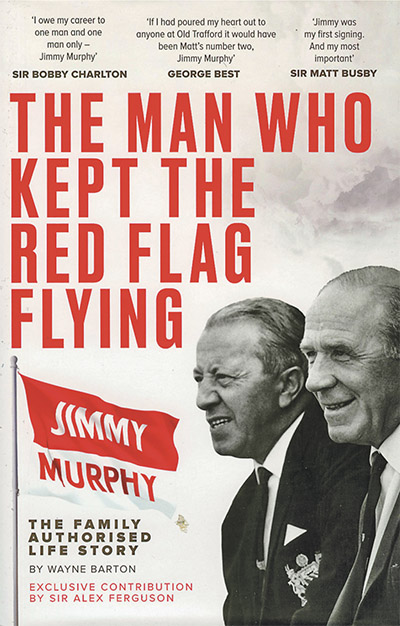 Jimmy Murphy – the family authorised life story
Trinity Sport Media, £16.99
Reviewed by Joyce Woolridge
From WSC 376, June 2018
Buy the book
If the concept of the lone genius is deeply attractive, so is the counter-narrative of the unsung hero, the faithful assistant who does most of the graft and receives little of the credit. Jimmy Murphy, Matt Busby's right-hand man for over a quarter of a century, has been cast as the latter, his shabby treatment once Busby retired an insight into the darker, hidden, ruthless side of the Manchester United manager. Murphy, who was effectively manager of United for two years while Busby recovered from injuries sustained in the Munich air crash, found himself edged out and the club stopped paying for his taxis (he didn't drive) to the ground where he was demoted to a scout. When Murphy was in hospital shortly before his death, Busby, by whose bedside in Munich he had wept and prayed, didn't visit.
Although Alex Ferguson is quoted here as saying that he was surprised it had taken so long for a book to be written about Murphy, there are two of note which preceded this one: Brian Hughes's Starmaker and Keith Dewhurst's bravura When You Put On A Red Shirt, part autobiography, but largely a paean to the loquacious, ebullient Welshman. Wayne Barton's biography was produced with the endorsement and collaboration of Murphy's family, who were anxious that it should be written without rancour or partisanship. When the suggestion was raised that Busby didn't make completely good on his promise that the club would always look after Murphy, the family would not support it.
Murphy's extraordinary story takes centre stage in Barton's book, from his days as a thundering wing-half, through wartime service in the desert about which all he would tell his sons was "I killed a snake, rode a camel and cooked an egg on the bonnet of a car", to the fateful meeting with the new Manchester United manager in Bari. Not only Busby's loyal assistant, he was instrumental in building two magnificent youth sides and in all the Scotsman's triumphs, and he also managed the Welsh national side, taking them to the World Cup in 1958 where he ran along the touchline fortified by sips of whisky from a flask. Initially appointed as assistant to Busby's successor Wilf McGuinness, he was soon edged out, given a £20,000 retirement payment and a £25-a-week scouting job, although subsequent managers did seek out his expertise.
Ultimately, Murphy himself turned down 12 or more offers to become a First Division club manager because he saw United as his club, the one he had "built with his bare hands", but also perhaps recognising that his true métier was working with players on the pitch rather than in the boardroom. There is a bust of him in the museum, and a young player of the year award and a training unit at the academy named after him. His later sidelining deeply hurt him, but as his son Jimmy said when a blue plaque was unveiled on his childhood home in Pentre: "My Dad would have been so embarrassed he would have avoided the whole thing and just gone down the pub."