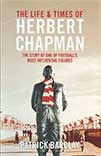 by Patrick Barclay
Orion, £20
Reviewed by David Stubbs
From WSC 324 February 2014
Herbert Chapman is, with some justification, known as the great moderniser of English football – the old Highbury stadium with its art deco features was a monument to his forward thinking, in keeping with broader developments in the earlier 20th century. Chapman it was who insisted that the manager, rather than the directors, pick the team, who imagined the role of floodlights in games and numbers on shirts, who adapted quickest tactically to changes in the rules of football in the way he balanced attack and defence, who picked a black player. Of course, modernisation is a double-edged blade – he also took a dim view of union membership among players and early on proposed that Orient be used as a "feeder" club for Arsenal, a notion that doubtless appalled their fans then as much as it would today.
His status as a visionary is indisputable, however, given that he grew up in a footballing era when crossbars were still optional, when goalkeepers were allowed to handle, though not hold, the ball anywhere in their own half, and "hacking" or kicking on the shins was only just dying out as one of the manly characteristics of the less than beautiful game.
Having achieved triple League success with Huddersfield Town, Chapman turned his attention south – he dreamt of making then-trophy-less Arsenal the "Newcastle of the South", which sounded very thrilling and far fetched in the 1920s. He repeated his triple League success at Highbury before his premature death in 1934, contracting pneumonia before penicillin was widely available – one aspect of modernity that came too late to save the grand old man.
Patrick Barclay tells Chapman's story with capable thoroughness, noting that he was harshly handed a life ban for the illegal payments scandal that led to the disbanding of Leeds City, whom he managed between 1912 and 1918, but rather luckier to get away with the underhand "bungs" he offered to Charlie Buchan as compensation for losses on his sports shop business while at Arsenal. He also retells the saga of his getting representatives from Bolton Wanderers nicely drunk enough to drop their asking price for David Jack.
However, one gets the impression Barclay was hoping to discover more about Chapman from the archives than he is able to unearth. Chapman, you sense, was a man who played his cards close to his chest and didn't testify more about this methods, his thinking, his philosophy, than he needed to. We have more evidence of his works than his inner workings. Despite Barclay's efforts, he remains an elusive biographical subject. Consequently, there's a lot of "Chapman would presumably have felt" this and "Chapman would most likely have thought" that. Barclay makes up the shortfall with diverting but at times bizarrely lengthy, tenuous digressions about Marie Lloyd, Edward Elgar and the First World War.
Still, this is probably as good an account as could be expected of the life of one of football's cornerstone figures, the first great example of what a strong manager can do, given time, a free hand and his head.