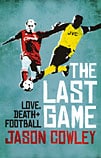 Love, Death and Football
by Jason Cowley
Simon & Schuster, £14.99
Reviewed by Terry Staunton
From WSC 270 August 2009
Michael Thomas's last-gasp goal for Arsenal at Anfield on May 26, 1989, has proven to be hard to top, in terms of live and unscripted televised sporting drama. Possibly the most replayed clip from a domestic football match of the last two decades, what has happened to the game in the intervening years forms the basis of Cowley's persuasive argument that nothing was ever the same again.
Those 90 minutes are chronicled and dissected in admirable detail over 60 pages, but the author, a former editor of Observer Sport Monthly, suggests that they signalled an irrevocable change to how football would be watched, on television or at the grounds.
Nick Hornby's Fever Pitch has cast a giant shadow over football writing since it was first published in the early 1990s, and the fact that Cowley is also a Gunners fan and writes about his own family and upbringing means that parallels are unavoidable. However, amid all the adolescent remembrances and genuinely poignant passages about the author and his father, there is a considered and provocative appraisal of football's transition.
That final game of the 1988-89 season came just six weeks after Hillsborough, a tragedy which prompted Cowley Snr to declare that he was "finished with football". One interviewee, Hillsborough: The Truth author Phil Scraton, believes the season should have been abandoned out of respect for supporters who were still recovering in hospital. But a version of business-as-usual prevailed, until that momentous Friday night at least. Big money then muscled in and swallowed a hitherto people's sport that was held in contempt by governments and the middle classes in general. Something had to give, but not all improvements have been for the better.
Sky, who have been praying for a repeat of that tense drama ever since, may have brought football into ordinary homes on a previously unthinkable scale, but at the cost of notions of community and human accessibility. The rise of the agent has brought about a shift in the game's powerbase, as Jon Holmes of SFX Entertainments sees it: "There's no sense of responsibility, no moral compass."
Cowley's dad is clearly the moral compass here, a proud and dignified man passionate about a bygone era of football, when geographical considerations were foremost in choosing a team to support, when the likes of Bobby Moore were considered pillars of society, as opposed to today's money-grabbing pariahs cynically kissing badges on TV.
George Graham, Tony Adams and Thomas (the latter apparently still struggling to escape the shadow of his finest few seconds) are clearly hero-worshipped by Cowley, although the true hero of the book is the author's West Ham fan father, who would take a stool to the Upton Park terraces to make sure his boy got a clear view of the pitch. Thankfully, Cowley balances the rose-tinted imagery with a sensible analysis of football's radical facelift that has the power to spark debate for several more seasons to come.