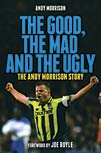 The Andy Morrison Story
by Andy Morrison
Fort Publishing, £16.99
Reviewed by Tim Manns
From WSC 298 December 2011
Ask about Andy Morrison in some of Plymouth's rougher pubs and the general response is a wince or a sharp intake of breath. He left the city 18 years ago, but is still remembered with a mixture of fear and dislike by many. Ask the same question at Home Park and more often than not those old enough to have seen him play will smile and wish there was a player with similar commitment and attitude in the current team. And there, as the man himself recognises, lies the conundrum. How could he run towards Argyle's hooligan element to celebrate a goal in the afternoon and then seek them out later for a brutal fight in the company of his brothers and mates?
Morrison starts the book by describing in graphic detail the moment he realised he was an alcoholic and recognised he needed help. What follows is often shocking, particularly the revelation of suffering sexual abuse. But it also occasionally amusing. His description of Shaun Wright-Phillips losing his temper in training is laugh-out-loud funny. The tone for Morrison's career was set when, as a 16-year-old apprentice, he faced up to Tommy Tynan, his boyhood hero, in training. As in so many cases in later years, respect from team-mates was established when the attempt to intimidate him was met with an absolute refusal to back down.
There is no attempt here to glamourise the regular off-field fights and subsequent brushes with the law. Morrison came from a tough background and it is surely more by luck than judgement that he didn't end up in prison like his brother Ian. Family plays a big part in the story – Morrison seems to have spent much of his life hoping for his dad's approval – and the section that deals with the death of his youngest brother is 
particularly moving.
After Argyle, Morrison played for Blackpool, Huddersfield Town and Manchester City, and the book offers real insight to the life of a footballer as the game moved into the Premier League era. Details of contracts and signing-on fees are revealing, and it is refreshing that players Morrison fell out with are named. Punches are not pulled, neither literally nor metaphorically.
Joe Royle writes a warm and moving tribute in his foreword and credits Morrison's part in City's recovery from relegation to the third tier, describing him as "one of the best signings I ever made".
If Morrison were an American sportsman this story might well end up as a movie. Indeed, one team-mate gave him the nickname Jake, after the boxer Jake LaMotta in Raging Bull. Only the author can know what, if anything, has been omitted, but this account of his life certainly seems to be brutally honest. Ultimately, it reads like a Greek tragedy with plenty of swear words.