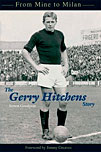 The Gerry Hitchens Story
From Mine to Milan
by Simon Goodyear
Breedon, £16.99
Reviewed by Matthew Barker
From WSC 275 January 2010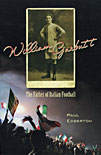 William Garbutt
The Father of Italian Football
by Paul Edgerton
Sportsbooks, £7.99
Reviewed by Matthew Barker
From WSC 275 January 2010
Two books telling the neglected stories of two Englishmen whose reputations and legacies have always been more appreciated in Italy than in their native country. Gerry Hitchens made his name as a striker with Cardiff City and Aston Villa. A goalscoring performance for England against Italy bought him to the attention of Inter and a move to Milan in 1961. After 18 months of mixed success he left for Torino, before moving on to Atalanta and Cagliari. In total he spent eight years in Italy, returning to the UK and Worcester City in 1969. He died in 1983 during an amateur game, aged 48.
There's a modest charm about Goodyear's book and perhaps that's a suitable tribute in itself. However, anyone hoping to discover more about Hitchens, after John Charles the UK's most successful export to Serie A, is going to be frustrated by its contentment to merely skim surfaces. There's no real sense of just what a massive step moving to Italy was; still less as to why he decided to stay on in the country when both Jimmy Greaves and Denis Law couldn't wait to get back to English football. Hitchens, we're told with eye-glazing regularity, was a simple Shropshire lad. Greaves, in his foreword, tells of how his regular drinking buddy turned up for the 1962 World Cup in Chile with a suitcase bulging with 19 designer suits, while Brian Glanville recalls the player seething with rage after being snubbed by Alf Ramsey: teasing glimpses of a more complex character which the author is sadly unable to bring to light.
Born in Stockport, William Garbutt played for Reading, Woolwich Arsenal and Blackburn Rovers, where injury prematurely put paid to his career in 1911. How and why he then ended up in Italy has never been properly explained. Garbutt is historically important not least because it seems he moved abroad for purely sporting reasons; other British football pioneers across the globe tended to be overseas for business purposes. The Italian game had developed at quite a rate over the previous decade (claiming him as the "father of Italian football" is stretching things), with Pro Vercelli, a side made up entirely of native talent, dominating the league and the Azzurri playing their first friendly in 1910. Garbutt's arrival still caused a stir, with Genoa winning their seventh title on the eve of the First World War.
After serving in the Royal Field Artillery, Garbutt returned to Genoa, winning successive titles in the early 1920s. In 1927 he became the first coach of AS Roma, before moving on to Napoli. Something of a protégé of Vittorio Pozzo (an idea developed more by Garbutt's Italian biographer than here), his achievements were ignored back home but enough to tempt Athletic Bilbao into offering him a contract. Garbutt duly won a Spanish championship, only to head back to Milan before returning to Genoa. The Second World War saw the Garbutts interned in various obscure Italian outposts; his wife Anna was to die in an Allied bombing raid in 1944.
Edgerton does a decent job of bringing together the facts of Garbutt's early personal and professional life, and there is a pace and rhythm to the storytelling; impressive given that so little is really known about the subject matter. Like Goodyear, he had access to a family member (Maria, the Garbutts' adopted daughter) and the book's latter stages have a touching poignancy.