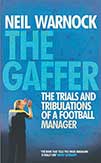 The trials and tribulations of a football manager
by Neil Warnock
Headline £16.99
Reviewed by Roger Titford
From WSC 323 January 2014
Outside Yorkshire people would call Neil Warnock's bluntness "refreshing", but I had enough relatives from the county to realise he is just talking normally, apart from the strange absence of any swearing. Warnock takes us well beyond the angry and abusive figure he was on the touchline to give perhaps one of the last accounts of being a manager from an English, old-school perspective, stretching across all the divisions.
He is prepared to name those he does not like, bears a few grievances (and why not after 33 years as a manager) and offers a few telling insights into the managerial mind. Some clubs have apparently switched the position of the home and away dug-outs, the better to berate the linesman running the right wing – no stone left unturned in the modern game.
Warnock has aired his views by means of a weekly column in the Independent (which I have not read and therefore cannot tell how much, if any, is rehashed). For The Gaffer he has employed the Independent's Glenn Moore to bring some polish to his thoughts. The pleasing result is an unusual structure, more reminiscent of fiction than biography. At times it reads like the musings of an after-dinner speaker reviewing his whole career through the prism of his current and recent jobs. The benefit to the well-informed fan is that you do not know what is going to come next, as you would with a more chronological approach.
The disadvantage, of course, is the reader might not get what they expect. I would have preferred more on his time at Bramall Lane. For me, and for the football world in general I think, this was the apotheosis of Warnock: ardent supporter turned successful manager and tragically undone in 2007 by managerial "friends" Alex Ferguson and Rafa Benítez, who picked weakened teams against Sheffield United's relegation rivals, and the dodgy Carlos Tévez deal.
Instead the focus is very much on later years with unstinting praise for Simon Jordan, once chairman of Crystal Palace, and the club's fans. This is followed by a detailed account of life at Loftus Road under the auspices of various uncontrollable international business moguls and in charge of difficult talents such as Joey Barton and Adel Taarabt. The job did not get any easier with the Anton Ferdinand and John Terry affair, which gets a close and dispassionate examination.
Warnock conveys a very strong sense of the manager's role being invaded and undermined by non-football issues inconceivable when he started at Scarborough and Notts County, hence the sub-title of this book. Nevertheless he remains hooked on the thrills and changing fortunes of football management. After QPR he took on Leeds, Ken Bates and a foreign takeover and the final few pages read more like another job application than a farewell to a boisterous 33 years of hurt.