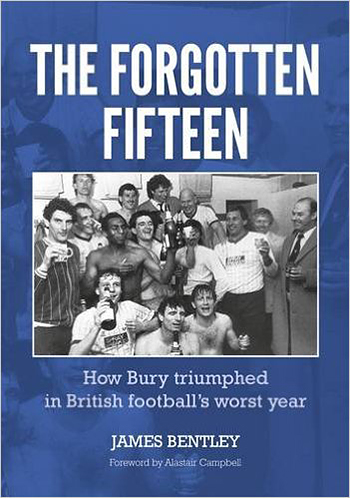 How Bury triumphed 
in British football's worst year
by James Bentley
SilverWood Books, £14.99
Reviewed by Charles Morris
From WSC 350 April 2016
The story of how a hard-up Fourth Division club succeeded against the odds and won promotion in 1984-85 using just 15 players has immediate appeal to fans of smaller clubs. The underdog theme also chimes with the present, as Leicester, Bournemouth and Burton confound expectations this season. The tale's backdrop is compelling, too, because 1984-85 was a nadir for British football, a period besmirched by appalling hooliganism and the tragedies of the Bradford fire and the Heysel stadium.
So far so good then as author James Bentley, a lifelong Bury fan, relates how the team's inspiring achievement was forgotten amid the horror and grief for which the season is remembered. The club had appointed former Burnley, Everton and England star Martin Dobson as player-manager towards the end of the previous season, and over the summer he assembled a determined squad of youngsters, experienced players and, crucially, two other ex-First Division names to complement his own skills. He signed former team-mates, winger Leighton James (Burnley and Wales) and midfielder Trevor Ross (Everton), and also used his Burnley connections to recruit Frank Casper as assistant manager.
Indeed the Burnley theme even begins the book, with a foreword by Alastair Campbell, Tony Blair's former spin doctor and Turf Moor stalwart, and recurs throughout. And the James and Ross signings are a reminder that, in contrast to today, top division players were not nearly so lavishly paid and often ended their careers at lower-league clubs.
After setting the early 1980s scene at Bury and the broader political and cultural context, Bentley fixes on a formula of dividing chapters into the months of the season. In these he uses local newspaper reports to relate the team's match-by-match progress and tracks down either one or two of the 15 players or staff to glean their memories of the season. The book is bolstered by action photographs and past and present pictures of the squad.
The problem is that this formula becomes repetitive, even with such a skilful and entertaining writer as Bentley. It quickly becomes apparent that the team succeeded, despite the sparse squad, for three principal reasons. Dobson and James, although past their best, were still too good for the Fouth Division; the team had two excellent goalscorers in Craig Madden and Wayne Entwistle, who together notched 43 goals; and they were lucky in avoiding injuries. Perhaps all that having a small squad cost them was winning the league, as tiredness crept in at the season's end, resulting in a fourth-place finish.
Bentley attempts to enliven matters by including events from the wider world, but often these appear as irrelevant padding. Examples include digressions on a BBC film drama about a nuclear attack on Sheffield and even a coach crash involving pop group Bucks Fizz. He succeeds much better when describing the terrifying hooliganism at the infamous Luton v Millwall FA Cup tie in March 1985, similar events at a Birmingham v Leeds game two months later when a 15-year-old boy died after being struck by a collapsing wall, and finally the Bradford and Heysel tragedies, using eyewitness accounts. Ultimately however, despite efforts to broaden the context, this is predominantly a book for Bury and Burnley fans.