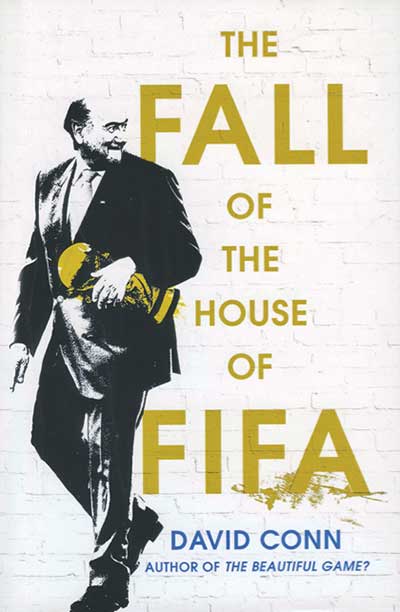 Yellow Jersey Press, £16.99
Reviewed by Jon Driscoll
From WSC 367, September 2017
Buy the book
I doubt you would enjoy reading David Conn's detailed account of two generations of corruption in world football but it is full of important things we need to know. It's a grubby tale, its premise articulated by the US Attorney General Loretta Lynch: "At least two generations of soccer officials… abused their positions of trust to acquire millions of dollars in bribes and kickbacks." Richard Weber of the US Internal Revenue Service encapsulated it as "the World Cup of Fraud".
Conn starts his story in 1974, the first World Cup he remembers, when the joy and splendour still burned brightly for a young boy in Manchester. That year Brazil's João Havelange, with Pelé at his side, tapped the political power of the impoverished nations of the football world to snatch the FIFA presidency from 79-year-old Sir Stanley Rous, the stiffest of British blazers, who couldn't understand why people in Africa criticised him for wanting apartheid South Africa to stay in world sport.
Havelange promised riches to national associations, some of which had struggled to pay their $150 annual FIFA membership fee, and engaged Swiss lawyer Sepp Blatter to help realise his vision. Conn stresses the role of Adidas boss Horst Dassler in making world football rich – and corrupt. No nation's FA would ever again be short of petty cash as the game's wealth was redistributed – some of it as advertised, some into the bank accounts of shady figures and an extraordinary amount to Trinidad's Dr João Havelange Centre of Excellence, the province of Jack Warner, president of Concacaf for 21 years and surely most shameless of the characters in the cynical story.
Conn, a multiple-award-winning Guardian writer, is described on the inside cover as "football's most respected investigative journalist" which is a claim more grandiose than any he makes. There is no shock revelation and no angry editorialising but there is a thorough examination of court reports, 26 other books written on the subject, his own recollections and new interviews, the most attention-grabbing of which is with Blatter.
The non-stick genius, looking and sounding old but not broken, proudly refused to allow Conn to pay for their lunch in Zurich. He had finally been snared over payments he had authorised to Michel Platini which neither man had regarded as cause for scandal. There remains no evidence Blatter took a bribe and he insists on his innocence and lack of knowledge of others' corruption. We may never know what he really knows but Conn isn't alone in failing to nail down the mercurial Blatter.
Conn's writing is precise rather than stylish; appropriately for the subject matter. If there is a danger in telling FIFA's story it is one of snow blindness. There is hardly a chapter in which a new character doesn't appear and soon more millions of Swiss francs are being transferred to this account or that. The scale of the fraud is so large and so obvious it is hard to be angry and frustrated enough. That the book isn't too thoroughly depressing is down to us knowing that the house of FIFA did fall and that someone did in the end look these characters in the eye and say "we know what you did, at least some of it".