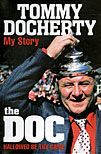 My Story
by Tommy Docherty with Les Scott
Headline, £18.99
Reviewed by Joyce Woolridge
From WSC 240 February 2007
In these times, when making a few appearances for a Premiership club and being caught brawling outside a lap-dancing club is deemed enough for a three-book deal, Tommy Docherty's weighty life serves as a salutary counter to such instant celebrity. This is a genuine autobiography, covering in detail his hard but respectable upbringing in a Glasgow tenement, his playing days as an uncompromising but skilful and accomplished wing-half for Preston and Arsenal, and his eventful managerial career at club and international level. Social change and the transformation of the status of footballers probably mean that future autobiographies can never have such depth of interest, replacing stories of early privation and struggle with 300 pages about the contents of their garages, address books and wardrobes.
The Docherty we encounter here is not the genial after-dinner speaker – his quips are kept to a minimum (there are two pages of his more famous lines at the back) and the best gags are given to his ex-Preston colleague Charlie Wayman. Although not without humour, this is Docherty putting his version of his time as a football man on the record.
As a national serviceman in Palestine, Docherty was on guard outside the King David Hotel when it was blown up in 1948. Similarly, throughout his managerial career, explosions, according to the Doc, just seem to follow him around and he professes to be bemused by a reputation for controversy which, to his mind, is largely undeserved. Thus, what others may perceive as the whirlwind Docherty style of arriving at a club, selling off half the squad, including at least one big-name crowd favourite, and rapidly bringing in his own players is always a necessary revitalising. Neither is he prepared to suffer the fools who populate football gladly, whether they be in the Scottish FA (whose officials outnumbered the 13-player squad sent to the 1954 World Cup and who offered the players £15 or their shirts as a match fee), on the pitch (Cliff Britton, the new Preston manager, told Tom Finney, one of the hardest workers at the club, in front of his team-mates that he would be better if he trained more) or in boardrooms across the country.
Docherty's most infamous detonations – such as the "Blackpool Incident", when he dropped eight first-team players who had broken a curfew, effectively ending Chelsea's outside chance of the League title – are discussed at length. The Doc claims not to bear grudges, but Terry Venables emerges with little credit from that fracas and the ensuing friction between the two men created a "disturbing undercurrent" that could only be purged by Venables' transfer to Spurs.
He is understandably bitter about the way in which the "Manchester United junior board" (his name for a collection of hangers-on – local businessmen and associates of Matt Busby) kept up a barrage of sniping and criticism against him behind the scenes. It was the junior board which Docherty believes was eventually responsible for his dismissal on the grounds that he had broken the club's "moral code" by moving in with the wife of the club's physio, to whom he is still very happily married. There is a revelation about Busby's private life which serves to underline that the club's own moral code was that one should not be found out, but also perhaps that revenge is a dish which tastes best when it is eaten very cold indeed.
Comments (1)
Comment by jonmid 2011-07-08 10:39:14