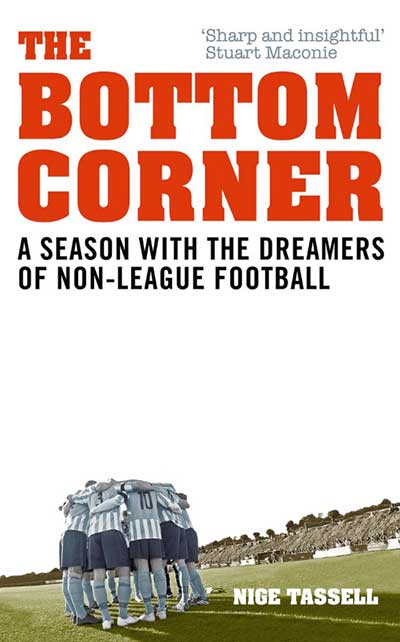 by Nige Tassell
Yellow Jersey Press, £12.99
Reviewed by Ed Wilson
From WSC 358, December 2016
Buy this book
In recent years the Premier League has brokered a succession of grotesquely rewarding TV deals that have made it synonymous with money. While the economy in general shuffles around tentatively, the Premier League bowls along with the brash confidence of cash. Nige Tassell's The Bottom Corner offers an antidote to this frenzy of accumulation and acquisition by lovingly documenting a season in non-League football.
Bookending the season with reflections on Tranmere Rovers' unsuccessful effort to return to the Football League at the first time of asking, Tassell diligently covers the country in his exploration of non-League, incorporating a wide range of stories.
From the overwhelming success of Hereford FC, who achieve immediate and emphatic promotion from the Midland Football League after being formed from the wreckage of Hereford United, to players rejected by Premier League academies rebuilding their careers at a lower level, all non-League life is here.
Tassell is unashamedly romantic in his attitude towards his subject: the chapter titles – "Sunday Worship" and "Hopeless Devotion, Unconditional Love", for example – are handy indicators of the reverence with which it is treated. This positivity is most evident in his lyrical description of Shaw Lane Sports Club, in which Barnsley in early autumn is presented as an idyll to rival Eden.
This rose-tinted view of non-League as a symbol of the triumph of love over money informs the book from start to finish. The majority of the stories included feature high levels of quirkiness or moral worthiness. The former is embodied by the groundhoppers, men (almost always men) driven to log their attendance at hundreds of grounds at various levels.
Tassell documents the rules by which they abide – some refuse to count a ground if a game ends 0-0 – with affectionate irony, although his instinct to celebrate prevents him from really interrogating the motivations behind this impulse.
He is also at pains to emphasise the diversity of the non-League experience: the stereotype of basic football played in basic surroundings, watched by humourless advocates of "real football", is consistently challenged. The frequent references to food provide an obvious motif of variety, from the post-match meal of sausages and chips consumed by dejected Bishop Sutton players after a 6-0 defeat, to the more rarified offerings of pulled pork at Lewes, or the vegan-only food and drink served at Forest Green. Top-division football, we infer, is more homogenous, without necessarily offering a higher-quality product, at least in the culinary arena.
While interesting, the number of narratives that Tassell squeezes in precludes significant emotional investment in any one story. He attempts to address this through a quixotic pursuit: using his contacts to bring a former professional to play a game for Bishop Sutton.
Having established this entertaining prospect, he leaves it unmentioned for several chapters, before bluntly acknowledging its failure towards the end of the book; this only raises questions about why it was included in the first place. However, minor frustrations aside, The Bottom Corner is an entertaining exploration of the quirks, commitment and romance of football away from the pumped-up bluster of the top flight.