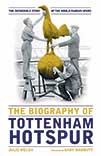 by Julie Welch
Vision Sports, £20
Reviewed by Alan Fisher
From WSC 314 April 2013
The Twitter hashtag #againstmodernfootball is hardly a scientific dissection of the faults of the modern game but it has become an outpouring of genuine frustration and growing disenchantment: exorbitant ticket prices, alienated and marginalised fans, an obsession with the here and now and instant success. Julie Welch's Biography Of Tottenham Hotspur is not only a revealing insight into the club, it could well restore your faith in football.
Welch traces the development of the club's character and personality, showing there is more to a football club's history than a list of players, matches and trophies. Her beloved Danny Blanchflower's statement that it's not just about winning, it's about glory and doing things in style, articulates a culture and identity that dates back to the club's formation in the 1880s, when three schoolboys met under a lamp-post 100 yards from the current ground.
Harry Redknapp and André Villas-Boas come from different schools of management but both talked of the need to play good football the Spurs way. Arthur Rowe's pioneering "push and run" won a League title in 1951. He was influenced by another innovator, Peter McWilliam, Spurs boss in the 1920s, and in turn inspired the incomparable Bill Nicholson to bring unparalleled success in the 1960s and early 1970s. The familiar mixture of flamboyance and exasperation, the sublime and erratic, would be instantly recognisable to successive generations of Spurs fans.
We deny history at our peril. Alan Sugar saved the club but he understood the balance sheet better than his heritage, hence the crushing mediocrity of the 1990s with Christian Gross, Gerry Francis and George Graham. Then again, there's nothing new under the sun. Financial crises, businessmen wanting to profit by moving the ground, an ability to snatch defeat from the jaws of victory: any decade at Spurs, not just 
the last one.
Welch is an author and screenwriter, the first woman football reporter in Fleet Street to have her own byline. She is a beguiling storyteller who tells the tale with a curiosity and style that sweeps the reader along. The air of artistry and magic seduced her as a schoolgirl but it's not quite right to suggest they entice fans these days. Peer pressure, family ties or blind accident are more common factors. However once committed it keeps us there, becoming part of who we are.
The nature of Spurs' identity as a Jewish club is the only omission, perhaps because although it's an independent publication, unusually the club have co-operated and are shy of potential controversy. The absence of statistics and tables may dismay lovers of detail, who will point to several 
proof-reading errors.
It's a beautiful book, wonderfully written, that is essential for Spurs fans and deserves to be widely read because it is about perspective, culture and identity, precious to fans everywhere yet under attack. Read it and I defy you to tell me that finishing fourth in the Premier League is what truly matters.