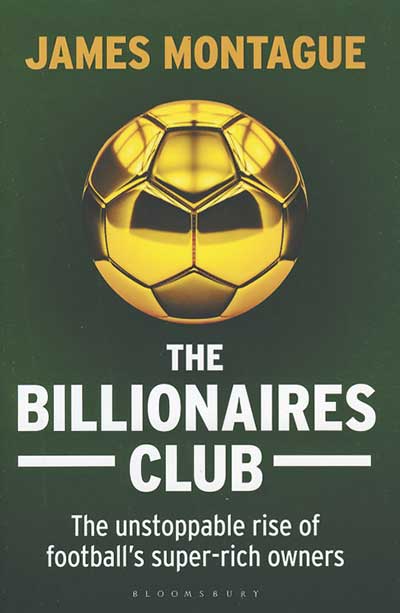 by James Montague
Bloomsbury, £16.99
Reviewed by Paul Rees
From WSC 368, October 2017
Buy the book
The overriding senses to be had from reading The Billionaires Club are of rage and helplessness. By no means is this a great book, though it does concern itself with, and occasionally shines an unforgiving light upon, some of the more unpalatable truths of modern football. James Montague, a contributor to both the New York Times and World Soccer, proves himself adept here at rustling up enlightening stories on the game from relatively far-flung outposts and placing them in the context of a broader global picture. He is, for example, forensic to a fault on the devastating effects of Ukraine's civil war on its national football league and in cataloguing flagrant rights abuses of migrant workers in Qatar and other middle-eastern kingdoms.
However, he faces an insurmountable obstacle to putting flesh on the skeletal back stories of his central characters. As Montague notes himself at one point, the truly wealthy are ever prone to zealously guarding their privacy. Certainly, those that pass through these pages remain elusive and enigmatic, present but shadowy and unknowable. Montague reminds us once again that Roman Abramovich acquired his vast wealth in the fire sale of state assets resulting from the disintegration of the Soviet Union in the early 1990s and of his close association with Vladimir Putin, but he is not able to make him appear any less inscrutable, or even begin to wade through the murk of his business dealings.
The book's structure is clunky and occasionally unhelpful, too. The author splits his narrative into four chunks, devoting one each to entrepreneurs from eastern Europe, the US, Asia and the Middle East. The background is densely detailed but, as with Abramovich, not one among the actual personalities is rendered in more than two dimensions. Also, Blackburn Rovers' erstwhile steel magnate benefactor Sir Jack Walker, surely the pivot between the vanished era of somewhat more benevolent local businessmen owners and the harder-nosed, morally ambiguous present generation, doesn't even arrive until halfway through and then just barely rates a mention.
Shorn of access and intimacy, Montague instead lays out a litany of greed and venality that encompasses all the usual suspects (the Glazers, Sheikh Mansour, Stan Kroenke, Mike Ashley et al) and some forgotten or lesser known, such as Carson Yeung, the Hong Kong celebrity hairdresser who gutted Birmingham City, and Wang Hui, a Chinese lawyer proving just as ruinous to Dutch first division side ADO Den Haag. Bleakly, there is the tacit suggestion that the majority of supporters are not overly troubled with where the money pouring into their clubs comes from, or how it has been earned, so long as it buys silverware. Indeed, the unspoken but inescapable conclusion of this dispiriting book is that football has sold its soul to the highest bidders.