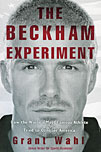 How the World's Most Famous Athlete Tried to Conquer America
by Grant Wahl
Crown, £16.99
Reviewed by David Stubbs
From WSC 273 November 2009
David Beckham's transfer to LA Galaxy was a surprising late chapter in the adventures of a footballer whose global superstar status exceeds by some distance his admittedly considerable abilities on the pitch. It was a slight return to the mid-1970s and the influx of internationals who chose to spend their sunset years in American soccer – Pelé and George Best among them. They had failed to galvanise interest in the game stateside but, it was optimistically argued, the infrastructure of MLS would enable Beckham to raise the profile and standards of the game more successfully than had his forebears.
Sceptics, however, wondered if the transfer that was really taking place here was of Brand Beckham from Europe to the US and particularly Los Angeles, global epicentre of celebrity and the ideal base from which to disseminate his image and merchandise. That 19, Beckham's management company, were overbearingly involved in the proceedings only exacerbated this suspicion, with Simon Fuller heading up the operation with an outpouring of corporate gush about Beckham's "grand vision" and his "representing the values we all try to achieve". Sceptics, as events turned out, were on the button as the "Experiment" has all but fizzled out, with only Beckham's ever-swelling reputation (as emphasised on that infamous Armani underwear billboard) and bank balance surviving the repercussions.
Grant Wahl is a writer for Sports Illustrated, who has had plenty of access to Beckham, as well as to most of the other major and minor players in this ongoing drama, including Alexi Lalas and Landon Donovan. His is a particularly American journalistic perspective, with novelistic passages and preoccupation with financial statistics abundant. However, Wahl knows his football/soccer and this, combined with his insider thoroughness and shrewd way of unpicking the business shenanigans surrounding Beckham, amounts to a better account of the entire affair than most, if not any UK journo stranded on this side of the pond could hope to furnish.
Beckham emerges, as so often he does, as no prima donna but a likeable enough figure and honest footballing toiler, albeit one acquiescent to the PR apparatus and celebrity in which he is embroiled, whose failings arise more from his frustrations at the way things are going on the pitch than from any great haughty pique. He's good as a team-mate but poor as a captain or inspirational figure and little help to anyone when things go wrong – often through the ill-informed workings of the people around him such as personal manager Terry Byrne, who disastrously helped to bring on board Ruud Gullit as a coach.
There's a telling anecdote about the Galaxy team, some of whose players earned as little as $12,900 (£8,000) a year for their services, going out for a team dinner. At the end of the evening everyone wonders if Beckham, on a $6.5 million salary, will pick up the entire tab. However, he merely chips in his fair share of the bill. This was probably out a desire to be seen as no one special, just one of the boys, but does illustrate how little trickledown there has been from Beckham to the team as a whole.
If there's a hero to this book it isn't Beck-ham but team-mate Alan Gordon, a longtime Galaxy stalwart and, if not the most cultured of players, a bluntly effective one, who for years was picking up a wage cheque not in excess of $31,000 per year. Despite having to hold down another job in order to make ends meet, he is wholehearted and uncomplaining, and far from begrudging the millionaire Beckham, seeks out his friendship. It's his dedicated sort, you feel, who represent both the substance and foundations of American soccer, rather than flashy, semi-committal star imports with Posh baggage.