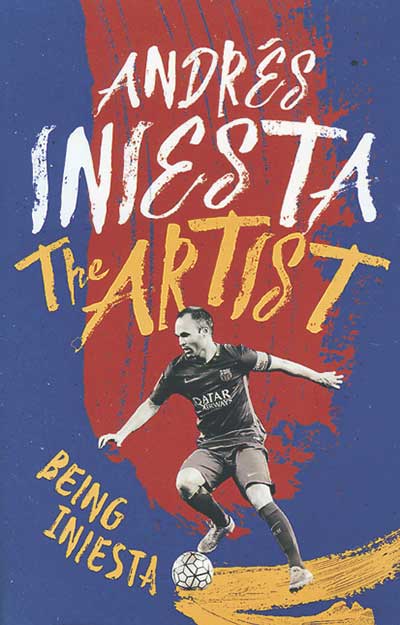 Headline, £9.99
Reviewed by Simon Hart
From WSC 362, April 2017
Buy this book
There is a wry confession from Real Madrid defender Sergio Ramos in The Artist: Being Iniesta. It concerns the series of brutally cynical Clásicos played between Pep Guardiola's Barcelona and José Mourinho's Real in 2010-11 and its damaging impact on Ramos's relationships with his Spain team-mates from Camp Nou.
With Iniesta, though, there was no problem, because even for a player with Ramos's lack of scruples, it was "impossible to kick him". And who could blame him? Iniesta, after all, is not just the man whose goal won Spain the 2010 World Cup final – the little Barcelona midfielder is also universally respected as a wonderful footballer and a likeable, level-headed person.
A man of few words, his book was never going to be an off-the-shelf, point-scoring, chest-thumping autobiography. It is not written in the first person and instead involves a more journalistic approach. It was a four-year project undertaken by two journalists close to Iniesta (and translated by Sid Lowe and Pete Jenson) and features a vast web of voices – from childhood friends from Iniesta's home village in La Mancha to teenage team-mates and coaches; and from medical and coaching staff at Barcelona to a who's who of Spanish football stars of the 21st century.
One after another, they can convey the sense you are reading a series of excellent, if slightly samey, broadsheet articles, but there is no lack of illuminating vignettes, such as Xavi being told by Wayne Rooney during the 2011 Champions League final: "That's enough, you've won – you can stop playing the ball around now."
There are arguably almost as many fascinating insights into others: for instance, Guardiola deciding against using the motivational video he had prepared for the second leg of the 2010 Champions League semi-final against Internazionale owing to the over-excited mood on the team bus. Iniesta's relationship with Guardiola, who told him, in his youth-team days, that "in ten years' time, I'll be up in the stands watching you play", provides a notable strand. It is funny to think, as Guardiola adds, that people once thought Iniesta and Xavi could not play together in the same midfield.
There are countless paeans from grateful team-mates about the selfless Iniesta with his pause-then-extra-gear acceleration and the freeze-frame vision summed up by his own reflection that, in the tumult of the World Cup final, he "heard the silence" before scoring. It was a goal his father did not watch – he was pacing the streets outside his home back in Spain – and it is these little off-stage stories that leave the strongest impression.
They convey a sense of the sacrifices made – leaving home aged 12 for La Masia – and anxieties endured, such as his struggle to be fit for the 2009 Champions League final. That year held some dark moments for Iniesta, notably after the death of Espanyol defender Daniel Jarque, and the most touching words of all come from the wife of his late friend, whose name Iniesta displayed on a T-shirt after scoring his World Cup final goal. It was the first game she had watched since her husband's passing, and a rare and treasured moment of light.
There are more colourful life stories, but these insights – the tales Iniesta has got others to tell – make this worthwhile reading for anyone seeking to discover more about a fine footballer and a golden era for Spain and Barcelona.