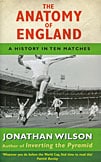 A History In Ten Matches
by Jonathan Wilson
Orion, £14.99
Reviewed by Harry Pearson
From WSC 281 July 2010
Jonathan Wilson produces so much high-class writing about football that, had I not met him on a couple of occasions, I'd be tempted to believe he was actually a workers' collective. The Anatomy of England is Wilson's fourth book on the game and while the subject – the England national team in all its splendid misery – might seem less exotic, esoteric and altogether more familiar than those covered in his excellent Behind the Curtain and Inverting the Pyramid the result is every bit as thought-provoking and entertaining.
Part of the author's inspiration for writing the book comes from a realisation that our memories tend to reduce the pivotal football matches we have seen to a few highlights – so England's victory over Scotland in 1996 becomes little more than Seaman's penalty save and Gazza's goal – which often distorts a more complex picture. With that in mind he reviews ten games that form key moments in England's history, from Spain's 4-3 victory in Madrid in 1929 to the debacle of Steve McClaren's last game in charge back in 2007.
Triumph (the thumping of the Netherlands in 1996) and disaster (Hungary, 1953), humiliation (Norway, 1993) and heartache (1990) are everywhere. It's hard to argue with the selection (though perhaps he might have included at least one 0-0 draw in the former-Soviet block, just to remind us how bloody dull and frustrating watching England has been a lot of the time) and Wilson's lucid, robust and witty analysis often throws up surprises.
One of the games included here, for example, is West Germany's 3-1 win over England at Wembley in 1972. I watched this live on TV as an 11-year-old. I have not seen any footage from the match since, but my abiding memory is of Günter Netzer strolling about with the ball at his feet, exuding the leisurely ease of a flâneur trying to find a pleasant spot for a picnic on a warm Sunday afternoon. A primary schoolboy brought up to believe that England were – if not quite superior – then certainly the equal of any nation on the planet, that game left me overwhelmed with a shame born of utter humiliation.
It seems from the match reports the author reproduces that I was not alone. Jeff Powell was characteristically affronted, upbraiding England's "old-fashioned" football, everywhere comparisons were drawn with the visit of Puskas and chums 19 years earlier and final nails driven into the coffin of our hopes and aspirations.
Yet having watched the game again in an age far removed from the Days of Empire, or indeed 1966, Wilson concludes that – while technically inferior – England actually put up quite a game performance against a team that would, over the next few years, prove themselves to be the best side on the planet (they had Beckenbauer, we had Emlyn Hughes).
As The Anatomy of England makes plain, a certain unwillingness to recognise the virtue of the opposition is almost as much a characteristic of English football history as crying out for greater passion and commitment from the players. Expect plenty of both over the next month.