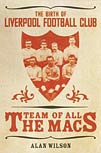 The Birth of Liverpool Football Club
by Alan Wilson
Vertical, £11.99
Reviewed by Rob Hughes
From WSC 297 November 2011
Liverpool first emerged, in true Adam and Eve style, from Everton's rib. A boardroom bust-up in 1892 led Anfield owner John Houlding to funnel his considerable wealth into a brand new team, taking his ball (and his ground) with him. Thus Liverpool FC was born, while Everton, having called Anfield home for eight years, were packed off to Goodison.
Alan Wilson's tale of the bitter split casts Houlding as the fall guy, despised by his ex-board members at Everton for both his insurrection and his socio-political leanings. The best bits of this book come early, with the staunch Conservative and brewery magnate – and fine purveyor of Houlding Sparkling Ales – pitted directly against Liberal teetotallers like his fellow Everton board member George Mahon. Wilson sets all this ballyhoo in context, at a time when Victorian Britain was merrily glugging itself a booze culture.
The game was lacking in grace too. Enter the Scottish leagues, then a hotbed of refined footballing finesse, full of players who did radical things like dribble and pass the ball, as opposed to the brawl-and-charge approach of the early English sides. By 1892 the talent was starting to level out, though the best players were still to be found north of the border. Houlding and right-hand man John McKenna duly wasted no time in signing the best of them from top clubs like Renton, Dumbarton and Cambuslang.
The politesse of the late 19th century is best expressed in some of the artefacts Wilson has dug out. There are suitably starchy letters to the FA, while one local ad placed by the club reads: "The Liverpool Association Football Club are determined to run a strong reserve team next season, and will be glad to hear from anyone with that object in view."
But the book becomes less engaging as it wears on, the bulk of it taken up with a match-by-match account of Liverpool's inaugural 1892-3 season in the Lancashire League. Wilson's writing style is pedestrian at best, the prose pockmarked with cliches. Meetings are scheduled a stone's throw from the ground, there are surprises up sleeves, fiery redheads, tough-tackling half-backs and, oh yes, plenty of carnival atmosphere. Meanwhile, there's scant mention of Houlding after the initial set-up. Which is a pity, as the future Lord Mayor of Liverpool was clearly one of the city's most intriguing and polarising personalities. Nor is there any attempt to connect the club's initial flush of Scots-driven success to what became a key lineage of the Shankly and Paisley eras.
Still, Team Of All The Macs is highly detailed and well researched, with a fair helping of decent trivia. The first keeper to concede to Liverpool at Anfield, for instance, was the legendary Arthur Wharton, Britain's first black professional player and one-time world record holder for the 100-yard dash. And, given that their first season ended in a League and Cup double – the Liverpool Senior Cup, that is, and against Everton to boot – Wilson's narrative has a ready-made dramatic arc. The euphoria of Liverpool's first campaign is only slightly dampened by the fact that both cups were promptly stolen from the display window of a nearby pawnshop.