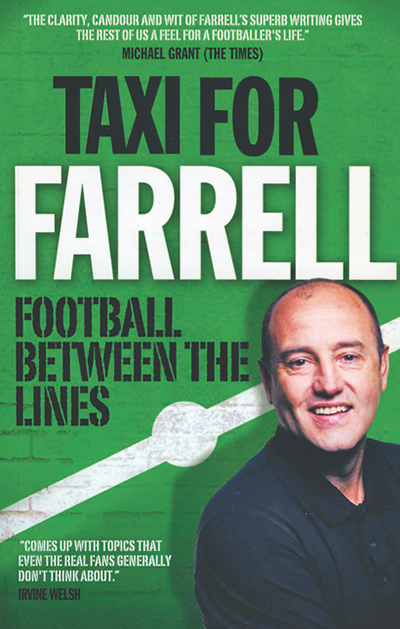 Football between 
the lines
by David Farrell
Teckle Books, £9.99
Reviewed by Neil Andrews
From WSC 350 April 2016
There's a scene in Dad's Army that neatly sums up David Farrell's football career. In the midst of a rant about class warfare, Captain Mainwaring informs Sergeant Wilson that he had to "fight like hell" to get into grammar school and "fight even harder to stay there". It is a sentiment Farrell can empathise with in his dogged determination not only to become a professional footballer but remain one, despite a crumbling left foot and a run of very bad luck.
By his own admission Farrell was never the most gifted of players but he made the most of what talent he did possess and it served him well during an 18-year career that included a League Cup final appearance with Hibernian. He sets his stall out at an early age, realising that he could influence games by "getting stuck in" but is intelligent enough to realise he needs brains as well as brawn. As an apprentice at Oxford United he singles out his nearest rival for a contract and proceeds to dismantle their game during training and practice matches. The ploy works and Farrell is selected as the non-playing squad member for a game against Manchester United at Old Trafford. Unfortunately the promise of a contract evaporates when Mark Lawrenson takes over at the Manor Ground.
Changes of management and the subsequent knock-on effects are a recurring theme in Farrell's career. A spell with Partick Thistle comes to an abrupt end after he falls out with new boss John McVeigh, while Billy McLaren's departure signals the end of his time at Stranraer. The constant threat of administration is another underlying theme. Of the 12 clubs Farrell has been involved with, 11 have experienced financial difficulties at some point, painting a depressing picture of the state of British football.
The collapse of Airdrieonians sees Farrell having to fork out £14,000 for an operation in order to continue playing before being forced to sign-on after proving his fitness. The urge to prolong his career leads to a reliance on cortisone injections but within a couple of seasons he is back at the job centre following his sacking from his coaching role at Dundee. He has a brief fling coaching Celtic Nation in the Northern League before becoming a taxi driver and part-time blogger, landing an unlikely book deal after it proves successful.
Throughout Farrell comes across as a likeable chap, if a tad insecure and wee bit paranoid. He clearly loves the game and craves the adrenalin rush it brings. This enthusiasm is reflected in his writing and he possesses a sharp wit that makes for an interesting read. However, superfluous explanations and an overuse of cliches suggest that he is unsure of his audience, while his habit of labouring the point is distracting. He also frets that he may never get another chance as a result of writing the book but since it was published he has escaped the taxi rank to become assistant manager at St Mirren. Thirteenth time lucky, perhaps?