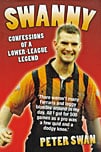 Confessions of a Lower League Legend
by Peter Swan with Andrew Collomosse
John Blake, £17.99
Reviewed by Terry Staunton
From WSC 267 May 2009
A foreword by Sky's Helen Chamberlain and further front-loaded testimonials from Gary Speed, Phil "The Power" Taylor and more leave the reader in little doubt that Peter Swan is a "larger than life" character. He goes on to tell us so himself many times, and employs the phrase "joker in the pack" almost as frequently.
Arguably the dictionary definition of a journeyman footballer, Swan's stints at, among others, Leeds, Hull, Port Vale, Plymouth and West Brom might suggest that he would be able to tap into rich seams of incident and experience accumulated during several circuits of the proverbial block. But in an already well represented field, Swanny takes sports autobiography to dizzying new heights of oafishness. Want to know about the author's continual presence behind the wheel of car while bladdered, his procuring of hookers for Hull City team-mates in Bulgaria, or the hilarious account of buying a rug to hide the stain caused by a drunken Leeds player taking a dump on his wife's new carpet? Then this is the puerile and pitiful book for you.
He occasionally touches on the small matter of football itself, although it's odd that he should write about the pride he felt winning trophies at youth level but is then unable to recall either the opponents or match scores. Perhaps the ghost writer could have papered over those cracks with a modicum of research, as elsewhere there are countless lists of the clubs and caps for every fellow professional who warrants a mention, seemingly shoehorned into the narrative to pad out a text that fell seriously short of the publisher's commissioned word count.
Most managers fall into one of two categories, according to Swan: they're either clueless or they're "great blokes". Howard Wilkinson at Leeds (who dubbed the player "Postman Pat" for his endless written transfer requests) would appear to fall into the former, despite winning promotion and a league title.
Swan never played in the top flight, but doesn't seem particularly regretful of his nearly man status. Why should he when he can boast of his ten red cards, or duping the hapless Port Vale medical staff into examining the wrong knee (ie not the injury-plagued troublesome one) before signing a contract? His was a footballing world where every new club meant a wedge of cash and another new car, where his own supporters at Plymouth would greet him with chants of "greedy northern bastard", and where a tenuous friendship with Robbie Williams brought more booze and jolly japes.
The obligatory redemptive tone creeps in when writing about his knee forcing him to retire early, or the humbling reality of – oh yes! – visiting children in hospital, but it's all in the style of the cod philosophy of a boorish Alan Partridge. Another stock phrase with which the reader becomes very familiar, twice on a single page at one point, is "saw the funny side", the limp coda to a string of anecdotes that almost always fail to build up any head of steam. One man's idea of funny has never been so sad.