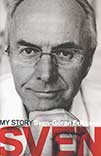 by Sven-Göran Eriksson
Headline, £20
Reviewed by Barney Ronay
From WSC 323 January 2014
When it comes to blockbusting autumn autobiographies this was always destined to be the Other One. Ah, Sven. Is there a more glazed, jaded and – here at least – unexpectedly fascinating major player in English football's most recent decade of plenty? Sven-Göran Eriksson may not have Alex Ferguson's trophy haul, planetary-scale publisher's advance or enduring sense of heft. He may have spent the last five seasons in retreat from the years of Peak Sven, when he seemed permanently ensconced among the sober suited managerial elite, catnip to the billionaire, darling of the tabloids, golden-handshaked by assorted FAs and fossil-fuel newbie-powers.
He may have emerged at the end of it all, at least judging by Sven: My Story, as an oddly chastened and soulful one-time master of the universe, assailed not just by law suits and malevolent ex-girlfriends but by doubts, fears and regrets. But he definitely has the more interesting book, and by some distance too. In fact My Story is a genuine treat from its oddly fractured opening pages, all present tense and angsty, existential regret – "it is early December and the first snow has just arrived" – the football manager's autobiography as reimagined by Bret Easton Ellis.
As early as page six we find Sven being swindled out of his fortune by a financial adviser and dismissing Nancy Dell'Olio with "We met in Rome during my time at Lazio. She was irresistible, then". This is the familiar softly spoken, equivocal Sven, but fretted now with melancholy and producing after some delicately sketched lines on his childhood ("I was born into secrecy") one of the more memorable football books of recent years.
There is a brilliant, and at times rather forgotten, managerial story in here: from the rise to precocious success at IFK Gothenburg, to glory in Portugal and Italy, to the initially giddy England years. There are plenty of laughs, many of them unintentional (as a young man Sven wrote a doctoral thesis on the 4-4-2 formation, and its unbending application in all circumstances). And there is footballing insight too, from the "revolution against individualism" of Sweden's tactical awakening in the 1970s (sped by the young Roy Hodgson), through Sven's dealings with Boniek, Baggio, Beckham and the rest.
Plus there is of course lots of sex. Before long we're hearing about Sven's first girlfriend whose father "ran a support group for people who had been caught shooting moose illegally". Later indiscretions include the occasion Sven was discovered reclining nude on the sofa of a cuckolded husband and ended up walking home through the streets of Stockholm without his trousers, through the familiar tabloid narrative of Nancy, Ulrika Jonsson and assorted others.
Throughout it is a strangely taut and vulnerable account, with a jarring skin of honesty. This is not so much a football book as the story of a man trapped in a series of scenes, a machinery of desire and ambition that seems at times to have overwhelmed him. Towards the end, while coaching in China, Sven describes going out for a bicycle ride on his own just after reading the proofs of My Story for the first time. "I felt depressed. Where had the years gone? My children? Friends? The women? Time? It hurt to think back."