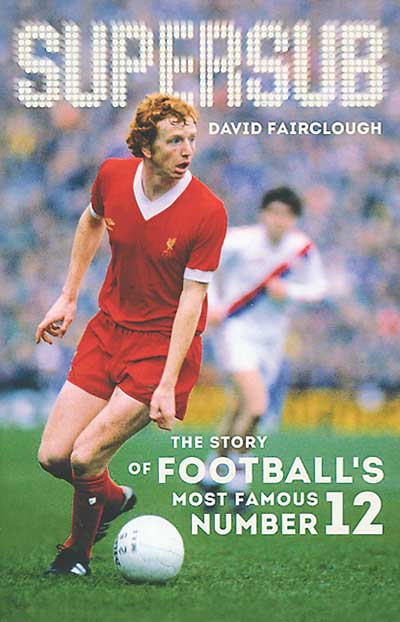 The story of football's most famous number 12
by David Fairclough and Mark Platt
De Coubertin Books, £18.99
Reviewed by Dan Davies
From WSC 345 November 2015
Between making his first team debut in November 1975 and playing his last game for the club in April 1982, David Fairclough made just 92 starts for Liverpool. He was named as substitute, more often than not the only substitute, in a further 137 matches and came off the bench in 62 of them – a club record he currently has the dubious distinction of sharing with Danny Murphy, Vladimir Smicer and Ryan Babel.
If this does not sound like particularly fertile territory for an autobiography, it should be pointed out that 18 of the forward's 55 goals for the most successful club in Europe at the time were scored as a substitute, the most famous being the winner against Saint-Étienne in the second leg of a European Cup quarter-final at Anfield in 1977, the year Liverpool went on to lift the trophy for the first time.
This happy knack earned the local boy a nickname he came to detest and which defined his career. It is Fairclough's honest appraisal of the 72 occasions he was an unused substitute, however, which provide the book's most telling insights. "Even getting a shower brought with it a sense of guilt," he writes, before admitting that as the years went by and a regular starting spot continued to elude him, he began to think only of himself: "To me, every game Liverpool won, or even played, without me was a slight on my ability and setback for my career." He maintains that "everyone was out for themselves", with first team regulars routinely concealing injuries because they feared if they dropped out of the team they might never be able to get back in again.
From the first chapter, it is clear who Fairclough blames for the "sense of resentment" he now feels at the way his career panned out. Bob Paisley is variously described as "cowardly" and "pathetic", despite Fairclough winning four League titles, two European Cups (one as an unused sub), a UEFA Cup and League Cup under Anfield's most successful ever manager.
The most vehement criticism for Paisley is reserved for way he broke the news to Fairclough that he would not be figuring in the 1977 FA Cup final, a decision that upset the boyhood Liverpool supporter so much he admits there were times in the game he wasn't sure he wanted his team to win. The disappointment was compounded by Paisley's "false promise" that he was being saved for the European Cup final in Rome a few days later. "I wouldn't go as far as to say that it moulded me as a person," Fairclough reflects, "but it certainly instilled a sense of cynicism in me."
Whether Paisley was right to harbour doubts about Fairclough, who made more appearances for Liverpool's reserves than he did for the first team, is a moot point. The second half of the book, in which his career peters out in a series of short-lived spells in America, Switzerland, Belgium and the lower reaches of the Football League, is characterised by further criticisms of managers who failed to pick 
him regularly.
The final stop was Wigan Athletic, where he fell out with manager Bryan Hamilton. "You've never fulfilled your potential," said Hamilton as Fairclough walked out of his office. It's a verdict, Fairclough readily admits, that has haunted him ever since.