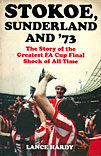 The Story Of The Greatest FA Cup Final Shock Of All Time
by Lance Hardy
Orion, £18.99
Reviewed by Ed Upright
From WSC 283 September 2010
As a Sunderland supporter born nine years later, I have, on occasion, been accused of intergenerational grumpiness towards the club's 1973 FA Cup win. Acutely aware of the folklore that surrounds it – Bob Stokoe's trilby, John Peel's favourite ever gig (the Faces in the town a week after the semi-final), street parties and rented colour TVs – I've witnessed more rain-soaked half-time raffles drawn by members of the winning squad, while play-off hopes foundered or relegation fears worsened, than I care to remember.
While some of this disaffection can be explained by simple jealousy, it's more than that. The legend of 1973 has allowed the club to be patronised as plucky underdogs ever since. More importantly, it has glossed over a multitude of past sins and boardroom mismanagement. As Britain's populist press remains obsessed with the Second World War, some around Sunderland have continued to take comfort from 1973. While it's fair to say I have a complicated relationship with its contents, this excellent book has gone a long way to curing my weariness.
Instead of just an isolated fairytale, Lance Hardy's Stokoe, Sunderland and '73 puts events into context. It deals with the preceding years – how Stokoe won over players and brought back crowds, reinstating traditional black shorts and altering midweek games to fit shipyard shifts. A major point of interest, Hardy also details the sad story of how a talented and united squad, many of whom moved on to successful careers elsewhere, fell apart afterwards. This missed opportunity, among others, brought about years of paralysis at Roker Park.
Hardy is much better at describing atmospheres or relationships than painstaking fact, like the overly-detailed match report of the final. But there is a well-selected array of interviewees, including players, opponents, fans and media figures. Barry Davis describes the laid-back atmosphere among the players – the Leeds team, dressed in double breasted suits, are uproariously mocked hours before the final. Bobby Kerr tells of his panic in locating his false teeth on the Wembley bench so he can be photographed with the trophy, Stokoe V-signs the critical Jack Charlton on the lap of honour and one smiles as Leeds are deservedly beaten.
I very much warmed to a familiar story, given added depth by amusing material, genuine feeling and honest appraisal. When an emotional Kerr defends nostalgia – "So many people have wanted to get rid of this stigma around the 1973 team and I just can't understand that. You will never get rid of it. Accept it and it will go" – I began to feel slightly ashamed of my cynicism.
Most pertinently, Kerr adds: "The only way people will start talking about something else is when Sunderland win something else." While dull mid-table is all we can realistically aspire to in the league, here's hoping for an FA Cup win in 2011. As much as I enjoyed this book and promise not to be so surly about 1973 in the future, we could all do with something new to reminisce about.