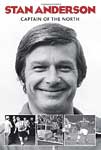 Captain of the North
by Stan Anderson & Mark Metcalf
Sportsbooks, £17.99
Reviewed by Joe Boyle
From WSC 292 June 2011
The urge to revisit football's once firmly embedded localism strengthens the more global the Premier League becomes. As local heroes go, Stan Anderson is hard to beat. Born in County Durham in 1933, Anderson is the only man to captain all three major north-east clubs. The bulk of his career was spent at Sunderland, playing at wing-half, a now defunct defensive midfield position. Anderson's instincts, however, were to push on, resulting in 46 goals in just over 500 appearances.
He made his debut for the "Bank of England club" in 1952, but the expensively assembled squad never met expectations. The 1954-55 season disappointed more than most, with an FA Cup semi-final exit and title chances squandered following a late defeat to eventual winners Chelsea. In 1957-58, with the club in swift decline, Anderson was part of the first Sunderland side to be relegated.
They returned to the top flight in 1964, but by then Anderson had left the club. His destination was a shock, the player's reaction when the deal was first mentioned being: "No way am I going there, no way am I going there, no way, no way, never, never, never and never again." A few months later he was captaining Newcastle to victory against his old club.
Having led Newcastle back to the First Division in 1965, Anderson completed his north-east hat-trick when he was enticed to join Raich Carter's Middlesbrough as player-coach, only for the club to suffer relegation to the third level. Anderson took over, led Boro up at the first attempt and then suffered a series of near-misses in his attempt to reach the top tier. Frustrated, he resigned, only to see Jack Charlton take on the squad and storm to promotion.

His Boro experience reflects a wider sense of frustration, a feeling that he constantly hit a glass ceiling. He never won the big prize, he only picked up two England caps, his managerial career stuttered and he was regularly done out of money that was due to him.

The book, too, is frustrating, even as Anderson emerges as a sympathetic character. Despite countless anecdotes and snapshots of his contemporaries, it lacks analysis. Anderson is uniquely placed to discuss the differing characteristics of the north-east clubs but offers no insight beyond recounting key incidents on the pitch. He suffered at the hands of unscrupulous directors but doesn't explore the cultural shifts that took place as the financial shackles were removed from players. He participated in major changes in tactical approaches to the game, but says nothing on how this affected styles of play.
The only real exploration of football's wider significance comes early in the book when Anderson describes attending matches not just at Sunderland but also at Middlesbrough and Hartlepool. "After the rigours of war," Anderson writes, "many people had a more relaxed attitude to results – after all, it wasn't a matter of life or death. That had been all too close in the recent years."