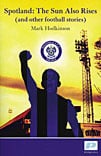 (and other football stories)
by Mark Hodkinson
Pomona, £7.99
Reviewed by Tom Davies
From WSC 286 December 2010
Rochdale have long been a totem of English football's fourth tier, a traditional by-word for lower-division failure alongside "the likes of" Hartlepool, Crewe, Torquay or Macclesfield. All of those have nonetheless enjoyed a promotion or two in the past four decades. Rochdale hadn't, until last season when they finally ended a 36-year spell in the basement. Mark Hodkinson had been there for all of them.
The author is a long-term chronicler of the Dale, who formed the inspiration for his earlier books Life Sentence and Believe In The Sign. The Sun Also Rises, however, gives him a chance to report on success for a change, combining his account of an exhilarating season with a collection of his football journalism, mostly for the Times, over the past 15 years.
Although billed as a book about Rochdale, the section devoted to the club comprises only around a third of it. He rattles through a month-by-month account of 2009-10, conveying the growing but uneasy conviction that this, finally, could be the team's year. Just as important as the team's success is their style. A dazzling 3-0 win at Bradford has supporters revelling in the admiration of the losers' fans, though even that is leavened with ingrained pessimism. "We've thrown away three-goal leads before," intones one Dale diehard during the match. "When?" asks another. "Port Vale in 1981."
Of course in the end Rochdale rather staggered over the line, throwing away a convincing lead at the top to trail home in third, and Hodkinson takes us through a nervy run-in through vivid yet standard tales of away-day drudge. The best such account is of the Easter trip to Torquay, which is all set up for a grand promotion-winning beano only for a 3-0 walloping to spoil the party. When League One status is finally achieved "it feels more like relief than euphoria" and the author's muted celebrations seem a let-down. A first promotion since the late 1960s – surely he should go out and get hammered.
Getting hammered is something of a recurrent theme in the strongest section of the book, covering Hodkinson's forays into the game's darker corners. They include a poignant and sensitively handled story on the death of Jason Ross, son of the former Everton and Arsenal player Trevor, and accounts of the falls from grace of former Notts County defender Pedro Richards, Southampton FA Cup-winner Bobby Stokes and Gazza's Cup-final victim Gary Charles.
His interviews with a mixture of genuine big names (Colin Bell, Mike Doyle – there's much here for Man City fans) and journeymen from less gilded eras (Richard Jobson, Paul Moulden) might easily have fallen prey to easy nostalgia but Hodkinson is admirably unromantic about football and has a keen sense of its capacity to be both life-affirming and destructive. The article on how overuse of cortisone turned a generation of players into physical wrecks is genuinely shocking, while tales of financial woe at Halifax and Barnsley, though dated, retain resonance.
There is some filler here – including a selection of (well-written) book reviews in another book seems a waste – and his target audience could fall between two stools. The Rochdale stuff will be familiar already to fans of the club, while the Times pieces cover a breadth of subjects difficult to fit into a niche.
This is mostly a compliment. Hodkinson's is an impressive body of work – thorough and sympathetic reporting from the game's less trod paths, away from formulaic establishment insider gossip. We need more football writing like this.X