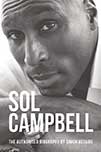 by Simon Astaire
Spellbinding Media, £18.99
Reviewed by Adam Powley
From WSC 327 May 2014
Major football biographies have taken a bit of a battering of late, with many publishers offering huge advances on books which failed to sell. Now, doubting commissioning editors are all looking for an "angle". Sol Campbell's biography, written by Simon Astaire, fits the bill. The headline grabber is inevitably only a small part of the story, but Campbell's assertion that he was denied the England captaincy due to the colour of his skin has been a 
publicist's dream.
It is also a serious accusation and one that has received widespread condemnation. One criticism is that it negates the more serious issues about lingering racism in football. It is also challengeable factually as well as being fodder for those who see Campbell as a whinger. As far as this book goes, it's another example of Campbell's lifelong grudge about being neglected.
At its heart, for all the extensive memoir of a hugely successful career, the book is primarily about Campbell's resentments, and in particular the fractured relationship with his late father. Yet for someone so prone to self analysis, he shows a glaring lack of self awareness. He moans about the England manager Steve McClaren failing to call him but leaves his future wife in the lurch by not answering her calls for three months. And he agonises about his father's distance while all but ignoring his own record as a parent who has had little or no contact with one 
of his children.
This will chime with the many Tottenham fans who still dislike Campbell for his move to Arsenal. There is some welcome context on the build-up to that event, and the pure logic of the move is evident. But his preening conviction – the other extreme of Campbell's complex character – simply doesn't countenance that it might not have been the most 
honourable of decisions.
Emerging from a difficult upbringing, Campbell shouldn't be admonished for his ambition, but doesn't appear to appreciate the consequences of his actions. He is now playing down the England captaincy accusation, like letting off a firework then complaining about the bang. In a Newsnight interview with non-football fan Jeremy Paxman, the message was hopelessly muddled – a result of Campbell trying to position himself as the intelligent footballer with something profound to say, but lacking articulacy.
Campbell fares better expressing himself via his biographer. He has interesting perspective on his experience at Lilleshall, while the chapter on life at Arsenal under Arsène Wenger and David Dein is enlightening. But the navel gazing overwhelms. The hitherto publicity-shy Campbell is laid bare as needy, introverted, a maddening mix of single-minded focus and debilitating reserve.
For all that, Astaire does a good job of keeping the narrative on track, while extracting genuine insight into playing at the elite level. The passages on the England v Argentina World Cup games convey the sheer intensity these contests generated. The antics of the Munto snake-oil salesmen who hijacked Notts County – and made a fool out of Campbell – make for a bleakly comic contrast.
This, however, is a biography only in name. It would have been productive, for example, to hear from the mother of Campbell's first child, or what his 11 siblings have to say, yet, over nearly 300 pages, only three of them are even mentioned by name. "Why don't people understand I'm just different to most professional footballers?" Sol pleads. He just wants to be loved, it seems – but he is hard work to warm to.