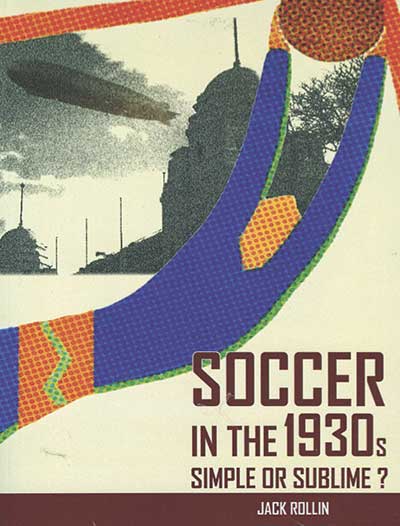 Simple or sublime?
by Jack Rollin
Soccerdata, £18
Reviewed by Roger Titford
From WSC 351 May 2016
What a curious book this is. At first I thought it was a reprint but it is a new offering from Jack Rollin (of Rothmans Football Yearbook fame) and published by Soccerdata, the imprint of another revered statto, Tony Brown. It may have taken as its model and inspiration Geoffrey Green's classic Soccer In The Fifties but it reads rather less fluently. Imagine a decade's worth of the Rothmans Yearbook condensed and set to workaday prose. It's hours of fact, the whole gamut of the game – internationals, England, Scotland, Amateurs, the Army Cup and the Varsity match – comprehensively covered. If you are about 95 years old you may well get some of those "Ah, I remember that" moments.
For the younger reader the suggested way in to the book is to contemplate the sub-title "Simple or sublime?". But Rollin does very little to amass the evidence on either side of these arbitrary distinctions. The 1930s has a dismal image: depression, appeasement, war. If the reader's expectations are that these elements will be linked into the analysis of football in the decade then they will go largely unmet. The cover shows the Graf Zeppelin flying over Wembley during the 1930 FA Cup final as if it were some harbinger of doom but the text gives the event just five words and no context (the airship was merely on a tourist day-trip from pre-Nazi Germany, a quick search reveals).
Rollin took the conscious decision to write as if he were still in 1939 and not to offer hindsight or modern perspective, thus essentially letting the facts speak for themselves. However thousands of facts all speaking at the same time is not a recipe for understanding the 1930s. Simple? Sublime? I can't tell. Certainly dangerous for players and spectators and less parochial than I thought, with club tours and players moving abroad.
The joy of this book is in the trivia. The level of knowledge and detail is astonishing, as if every newspaper report and magazine article has been read and remembered. Much of it may not be to taste. That "Fred Jessop at Derby County had a cat and a dog" is not something I am likely to find helpful no matter how tough a football quiz I attend. But it is interesting to know that no English correspondent attended England's first defeat to foreign opposition in Madrid in 1929, that fixtures dictated Plymouth played at home on Boxing Day 1930 then travelled through the night by train to Liverpool, where they were promptly beaten 9-1 by Everton the next afternoon, that a player managed to play for both sides in the same League fixture and another managed to score without setting foot on the pitch. If you want to find out how, you now know the place to look. The last 50 pages consist of a collection of the more useful statistics to be found in modern annuals.