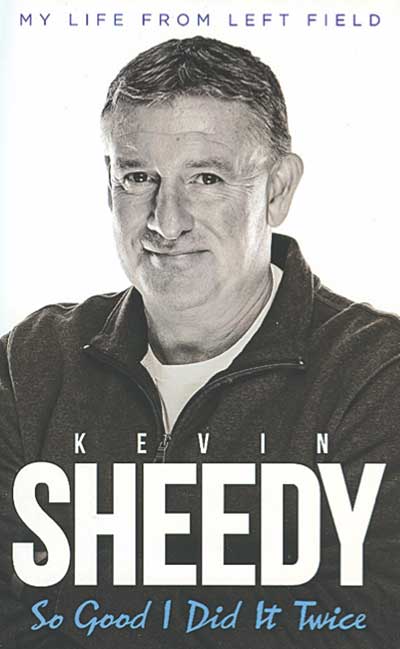 My life from left field
by Kevin Sheedy
SportMedia, £14.99
Reviewed by Mark O'Brien
From WSC 332 October 2014
Paul McGrath and Tony Cascarino's autobiographies are renowned as two of the most caustic and revealing footballing books in recent times. Their former Republic of Ireland international team-mate Kevin Sheedy has written his life story now but anyone expecting soul searching in the same vein as Back From The Brink or Full Time is likely to be disappointed.
Sheedy's story is told in a fashion that could most politely be described as "breezy". From a youngster at Hereford to a bit-part player at Liverpool before becoming a key part in the all-conquering Everton side of the mid-1980s – then rounding off his playing career at Newcastle United and Blackpool – it's all dealt with in the same cheery, almost 
matter-of-fact fashion.
It's quite an old-school approach, even throwing in some "any other business" chapters near the end, where Sheedy gives his opinions on the perils of social media facing today's young players and picks a best XI from his former Everton and Ireland team-mates. Among that throwaway page-filler then it's a shock to come across a section which deals with his recent treatment for bowel cancer. A more modern style might have made that the touchstone for the whole book, reflecting on his career in the light of the grave news of his illness, but maintaining the light-hearted tone Sheedy concentrates instead on a nurse pulling back the sheets following his operation and declaring: "Oh my god, they've cut your cock off!"
He comes across as a thoroughly nice fella then, but it feels like a bit of a missed opportunity. While Evertonians have probably read just about everything it's possible to know about Rotterdam and the League wins under Howard Kendall, Sheedy was privy to the break-up of that great side and the start of the club's decline and it would have been illuminating to know more about that process. He was in fact part of an infamous incident that is seen as emblematic of the chaos that reigned at Goodison during Kendall's second spell in charge, when he had a fight with Martin Keown in a Chinese restaurant. He brushes it aside though, blaming his behaviour on the fact that he was unaware that the players had been buying him glasses of wine when normally he only drank it with soda. Seems plausible.
He tells his own collection of Jack Charlton anecdotes too – the Ireland manager left him out of a squad altogether for a match and then added insult to injury by trying to send him on as a sub – and the Italia 90 section is probably the best bit of the book.
The title, by the way, refers to an incident at Goodison in March 1985. Sheedy lashed a free-kick past Ipswich's Paul Cooper and into the top-right corner. When ordered to be retaken he simply placed it in the top left. So good he did it twice. Unfortunately though, once is more than enough when it comes to reading his book.