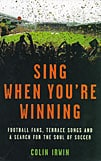 Football Fans, Terrace Songs and a Search for the Soul of Soccer
by Colin Irwin
Andre Deutsch, £12.99
Reviewed by Ed Upright
From WSC 243 May 2007
Sing When You're Winning has a very broad brief. It is an attempt at an amusing travel journal, a brief history of several football clubs and the story of terrace songs. It supports the folk singer Martin Carthy's view that football crowds "represent the one true surviving embodiment of an organic living folk tradition". Above all, according to the subtitle, it is a "search for the soul of soccer". With so many boxes to tick, this was always going to be difficult task and unfortunately it doesn't quite succeed.
The book follows Colin Irwin's travels around Britain, his visits to matches and his discussions with seemingly anyone who will answer back. He does this with a reasonable dose of self-deprecation but on several occasions the conversations being related are with the sort of people you would very happily avoid in everyday life. These are the obsessive cases: those who adopt clubs on a whim, then travel thousands of miles weekly; the men who name sons after entire cup-winning teams; and the woman from Northampton who hasn't missed a Liverpool game for 32 years due to an early adoration for Phil Neal. These are not normal fans but überfans. Irwin himself ponders whether these people are the heartbeat of the game or "sad nutters". Unfortunately however, these are the images that Sky and the rest of the bandwagon have been marketing back to football as "true fans" since the 1990s.
As well as members of the crowd, Irwin interviews a variety of public figures. These range from Mohamed Fayed to the ­self‑proclaimed "king of terrace anthems", Pete Boyle. This is all well and good, but you start to worry about the reverence Irwin shows for Jasper Carrott and Chumbawumba, while alarm bells really ring when Bradley Walsh is described as a "lovable geezer type". These minor irritations are not assuaged by the writer's willingness to indulge in cliche – football related or otherwise. So he's nearly moved to tears by You'll Never Walk Alone, the Welsh have funny names and you're bound to get mugged in Hull. When you're told you should never trust anyone who doesn't like football or that you can't knock a full-scale stadium band you're forced to sigh inwardly and ask, really?
Yet there are some compelling parts. When Irwin focuses on a particularly interesting story, such as the match at Home Park between Trade Unionists and police during the General Strike of 1926 or the reasons why Goodnight Irene is sung at Bristol Rovers, ­genuinely fascinating details begin to appear. In his opinionated moments he mocks stewards, relates an amusing tale of the Kassam protests at Oxford, is highly supportive of the women's game and rants lucidly about MK Dons. A self-confessed geek he may be, but he's a likeable and passionate one.
However, the sheer width of the task in hand means that while the first half of the book consists of extremely detailed narrative, the final 70 pages are conducted at breathless pace. This ensures that the most important section, Irwin's concluding feelings towards a subject he clearly cares about, is cut short as we hurtle towards the end. This is a shame as with a bit more focus, and not quite so much desperation to please, the large amounts of research clearly conducted could have produced an interesting and entertaining book.