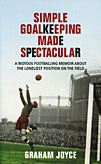 A Riotous Footballing Memoir About the Loneliest Position on the Field
by Graham Joyce
Mainstream, £8.99
Reviewed by Pete Green
From WSC 273 November 2009
What do goalkeepers daydream about? What goes through their minds when all the play is down the other end? Simple Goalkeeping Made Spectacular is the true story of a 52-year-old custodian called up to represent England in a Writers' World Cup in Florence. The story fades into the background, however, as Graham Joyce digresses into matters as diverse as the pre-match huddle, what the six-yard box is for and the efficacy of spraying WD-40 on your osteoarthritic knees.
In this way the narrative traces the outlines of the keeper's consciousness as a game is in play. Joyce – in his day job a successful author of horror and fantasy fiction – is self-deprecating to a fault about his ability between the sticks, but as a writer he shows a safe pair of hands throughout, with a devilish twist of flair. He also demonstrates that swearing can be big and clever if you do it properly. He does it properly. A lot.
Like football writing from Fever Pitch to My Father And Other Working Class Heroes, Joyce's offering also addresses that fraught and knotty relationship between fathers and sons. Though his dad appears as a football agnostic – "you must be barmy" is the old fella's expression of admiration as his boy dives bravely at the feet of an opposing forward – the author paints his father's decline from coalminer to cancer victim movingly and tenderly. The same qualities show up as Joyce's own lad joins in park games, where the kids "adore being with their dads in a context of play… They are watching for cues on what it is to be a man."
But his insights into the goalkeeper's craft are where Joyce reveals most: penalties, positioning, the ignorance of pundits and the evils of the new "ridiculous lightweight, swerving circus ball". Styles of goalkeeping are compared and contrasted. At one end of the scale is Gordon Banks, "the exact opposite of a showman" with his "constant sideways creeping, a sequence of minor crab-like adjustments" which obviate the need to dive. At the other is the exhibitionist approach alluded to by the title and embodied in
René Higuita.
In the end Joyce, exasperated with the hyper-seriousness that burdens modern football, comes down in favour of the scorpion kick: "In a drab, stale 0-0 yawn with England, he alone was worth the ticket money. Praise Higuita! Praise him!" Indeed, he approximates something of Higuita's flamboyance in his writing – as evidenced in an imaginary comic dialogue between the Colombian and the author's great aunt Evelyn – and even knocks out a cover version of Higuita's acrobatics in an audacious, tantalising finish to the book.
Simple Goalkeeping Made Spectacular, then, expertly draws out the parallels between football and the rest of life. It may not be unique in this, and the blokey persona that Joyce uses might grate a bit here and there, but it's distinctive for its panache and irreverence, and its blend of humour with poignant moments of insight. You won't find many better football books this year.