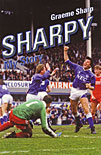 My Story
by Graeme Sharp
Mainstream, £16.99
Reviewed by Mark O'Brien
From WSC 241 March 2007
Because his international career with Scotland was relatively limited and the period in which he won domestic honours was fairly short, non-Evertonians probably know very little about Graeme Sharp. Indeed, if they were asked to name a striker from the mid-Eighties glory days at Goodison, they would probably be more likely to go for Andy Gray or one-­season wonder Gary Lineker.
Sharp, though, is an Everton legend. The club's highest post-war goalscorer, he still works there in a public-relations role and, whenever he walks down Goodison Road on matchdays, men in their thirties and forties do that thing that happens at every ground when an ex-player is spotted – they point him out to their kids and say: "Forget James Beattie, son, that there is a proper centre-­forward." Either that or they just make themselves look stupid by shouting: "We could do with you out there today, Graeme."
Anyway, he is held in high regard by the fans who watched him spearhead Howard Kendall's team to an FA Cup victory, two League titles and the club's sole European honour, the 1985 Cup-Winners Cup. Sharp himself scored at Wembley against Watford, as well as in the semi-final epic against Bayern Munich. He also played a major part in the demolition of Rapid Vienna in the final in Rotterdam. Naturally these games and more are explored in some detail, but still the book doesn't really feel like much of a celebration. In fact it seems more like a study in decline, as most of the revealing and heartfelt sections deal with how Everton failed to capitalise on their success of that mid-Eighties period; a situation that has ultimately led to where they find themselves in the present day.
All the Everton biographies that deal with that era, Sharp's included, insist that the biggest blow came with the post-Heysel European ban. Arguably the best team in the club's history was denied the opportunity to have a crack at the European Cup. However, despite the fact that Everton suffered worse and more unjustly than anyone else, other clubs were in better shape to take advantage when the ban was eventually lifted. The Blues had declined alarmingly in that period and Sharp identifies what he thinks were the reasons for that. In short, he names the players who were brought in who were not as good as the class of 1985. Tony Cottee, for instance, comes in for particularly scathing criticism, but Sharp fails to admit that many of the 1985 championship side were kept on when their best years were well behind them.
His own career fizzled out at Goodison before he moved to Oldham, where he became manager before doing the same job at Bangor City. Some of the most amusing tales come from his time in the League of Wales. For instance, when he tried to get one player, Lee Noble, to act more professionally, particularly in his eating habits on the way to games. "He was a good player and agreed to cut down on future trips – he'd buy a normal bag of Maltesers rather than a family-sized bag."
It's a revealing book in parts, as Sharp seems to have a lot of things to get off his chest, but unfortunately he comes across as a bit of a moaner. Great player that he was, it is still hard to sympathise with him, for instance, when he complains about the police denying him a big payday by not allowing Celtic to come to Goodison for his testimonial. As one Blue who got the book this Christmas said: "How does he think I feel? I paid good money to go and watch the Legends game they had instead."