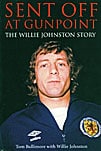 The Willie Johnston Story
by Tom Bullimore with Willie Johnston
Know the Score, £17.99
Reviewed by Alex Anderson
From WSC 265 March 2009
Featuring the most infamous hay fever remedy ever and 20 red cards in 20 years, Willie Johnston's career is publishing gold dust. Yet by the end of this structureless, misspelled, style-free trudge of factual inaccuracies, you're left astounded not by Johnston's experiences but by author Tom Bullimore's inability to provide a remotely commensurate book.
How can you fail with such material? To be as good as Willie Johnston was for as long as he was, while indelibly doused in controversy and catastrophe, borders on the mystical. Coming home in disgrace for failing a drugs test two games before the rest of Scotland's 1978 World Cup squad is only the most widely known of his nightmares.
Playing in Rangers' single worst defeat to date, at Berwick in 1967, he has his ankle broken. Four years on, he's suspended for the Old Firm match that led to the Ibrox disaster but attends as many of the subsequent funerals as he can. Willie scores two of Rangers' three goals in the 1972 Cup-Winners Cup final – the club's only European tournament win – there's a riot after the game and his side are banned from defending the trophy. If this book fails to illuminate his story it is at least in keeping with it.
With the addition of an NASL Soccer Bowl triumph, death threats from foreign players, stamping on the throat of a prone opponent and guns pointed at him by both New York and Argentinian cops, the readership for such a tale should stretch beyond the Rangers, West Brom and Hearts fans who best remember Johnston's world class skills. This particular telling, however, reads like the apocryphal rants of the worst bar-room acolyte.
Where we need probing objectivity, we get skimming and interminable Wikipedia-esque career stats on every player, manager and Brazilian tourist attraction ever encountered by our hero. Basically, 19 of the red cards were down to refs failing to protect his wing wizardry, everyone in the English First Division was taking Reactivan in 1978 and Sugarloaf Mountain is "a monolithic peak of granite and quartz which stands 1299 ft above sea level…"
Quotes from former team-mates, managers and fans of every description are little more than bland testimonials, lazily boxed off in appendix-style isolation. The mistakes you do spot in the clunkingly painful prose – Johnston scored eight goals at Celtic Park in the space of seven months rather than seven days, and Sporting Lisbon aren't Spanish – leave you wondering how much of the other stuff you can trust.
This lack of faith bottoms out with the chapter everyone is waiting for. Willie's part in Scotland's downfall at the 1978 World Cup is blamed on Archie Gemmill. And the SFA. And the Argentinian FA. And Archie Gemmill again. Amid a fudge of excuses, conspiracy theories and moral relativism – Lou Macari was worse because he sold tit-bits to the press – we get the distinct impression Johnston's naivety is guiding the story at the very point it should be the story. The author's too close to his subject and, as we know, getting too close to Willie Johnston was always a silly move.