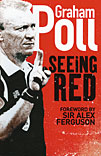 by Graham Poll
Harper Sport, £18.99
Reviewed by Tom Green
From WSC 248 October 2007
Early on in Graham Poll's autobiography, the now retired referee shows a surprising degree of self-awareness. Admitting that, as a child, he had a tendency to play the clown, he explains that it was his way of dealing with insecurity. "If I was told, as a schoolboy, to go to such-and-such a room, I would loiter outside, dithering about whether it was the right room and what people would think about me when I went in. So, to deal with that feeling, I would confront it. I would burst into the room and be completely over-the-top. I used to overcompensate."
While Poll never quite admits that the same tendency ultimately blighted his refereeing career, the evidence seems clear. He was ambitious and successful, and yet his flamboyant approach and need to assert his personality at all times ultimately helped to undermine his authority.
Seeing Red is not the sort of book that seeks to probe such matters too deeply. First and foremost it is Poll's attempt to set the record straight about the major incidents that punctuated his career. Given the treatment dished out to officials by players, managers and the media, it's hard to begrudge him that and he and ghostwriter Mick Dennis do a good job of explaining the context and details of the major rows.
Particular contempt is reserved for Chelsea in general and John Terry and José Mourinho in particular. Terry, Poll says, lied about what was said during the Chelsea game against Spurs in November 2006 regarding the award of his second yellow card. Mourinho, meanwhile, not only launched a foul-mouthed tirade at Poll during a match against Manchester United but also used him as a scapegoat after his team's draw with Arsenal (featuring Thierry Henry's quickly taken free-kick goal) in December 2004.
However, Poll's main target for abuse is the FA. In failing to back officials, he says, they undermine their authority. Managers and players get away with unsubstantiated claims about referees knowing that they are unlikely to suffer more than a slap on the wrist.
At more than 350 pages, Seeing Red does feel rather overblown – the main points could have been made just as effectively in a single article. And, true to character, there is a very dramatic (and lengthy) account of his infamous three-card trick at the 2006 World Cup. The facts are simple: Poll gave Croatia's Josip Simunic a second yellow card thinking it was his first so did not send him off. It was a mistake in a football match, not a full-blown tragedy. Yet, given the way that the media overstate everything to do with the game, it's perhaps unfair to expect the man at the centre of the storm to retain his own sense of perspective.
Overall, Seeing Red is a decent book. Well written and structured and with plenty of admissions by Poll of times he got it wrong, it offers an insight into the world of top-level refereeing. Even fans driven to distraction by his decisions over the years will, I think, gain a little more respect for him.
What will infuriate is his inability to accept that a referee should, ideally, keep a low profile. While denying that he wanted to hog the limelight in big matches, he admits to loving media attention before the FA Cup final in 2000. The fact is that in the end he became the story. And for referees, like political spin doctors, that's a sign of failure.