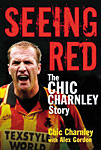 The Chic Charnley Story
by Chic Charnley with Alex Gordon
Black & White, £14.99
Reviewed by Chris Fyfe
From WSC 281 July 2010
One match can define a player's career: Archie Gemmill's goal against the Netherlands; Diego Maradona's Hand of God; Eric Cantona's karate kick. It was Chic Charnley's acclaimed guest appearance for his beloved Celtic against Man Utd in Mark Hughes's 1994 testimonial that summed him up.
Seeing Red reflects a lot on how much better Charnley could have done. As he says himself he won "fuck all" – except for one Glasgow Cup – in over 20 years. When playing for Hibs near the end of his career the calls for him to be capped were not so outlandish. But not signing for Celtic after that appearance at Old Trafford shows his failed potential.
Despite an irritating writing style that rambles somewhere between Dictaphone and saloon bar bore, Seeing Red is a reasonably interesting and entertaining account of every level in Scottish football, with trips to Ireland, Bolton and Sweden along the way. Fundamentally it is an informative account of the reality of being talented with a temper problem. The bulk of Charnley's career was spent under John Lambie, at Partick Thistle and Hamilton Accies, and the best insights come from that era, whether witnessing Lambie strangle a pigeon in the dressing room or the inside story of being attacked by assailants wielding swords during training.
The 17 red cards he saw brought him infamy, and a useful book title. Charnley is reasonably frank about his disciplinary problem: knocking out a team-mate and throwing his boots at the manager during his first spell at St Mirren; punching the assistant manager at Clydebank and the manager at Hamilton; hitting a team-mate at Dundee. At least most of his red cards were for punching his opponents, although he admits deep shame about his dismissal for spitting on an opponent during his second spell for St Mirren.
Seeing Red has some dull space fillers: the usual lists of the best players Charnley has played with plus more eventful sections on the dedicated bevviers he has drunk with and the hardest footballers he played with. One sour note is Charnley's disdain for Alex McLeish, who released him from Hibs. Jim Duffy, the previous manager, was a friend of Charnley who turned a blind eye to him missing Monday training with a hangover. Despite McLeish managing Birmingham City (ninth in the Premier League) and Duffy in charge at Brechin City (fourth in Scottish Division Two), Charnley describes McLeish as "lucky".
For those of us who watched Chic in his element, whether sending a 70-yard pass to set up a goal, scoring from 60 yards out or being suspended yet again after a petulant foul, Seeing Red at its best reminds us of a talent we only saw because he was too daft to play at the level he ought to have. His story is special because he was a big fish in a small pond. If he had reached his potential there would be less of a story to tell.