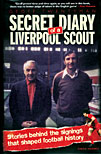 by Simon Hughes
Trinity Mirror, £14.99
Reviewed by John Williams
From WSC 275 January 2010
Bill Shankly once told his captain Tommy Smith: "Managing a football club is like drowning: sublimely peaceful and pleasant once the struggle is over." Shanks always got a little melancholy as the summer months stretched ahead with no football action. He also said wisely that the most important quality a manager must have is "the natural ability to pick a player". Many of today's Liverpool supporters might question the current incumbent on this score.
It is also important to have trusted and competent scouts and other contacts who can assess the qualities of both the player and the man, another Shankly insistence which seems to have recently fallen by the wayside. Before the Second World War the Liverpool directors did much of the scouting. It was an ad hoc and unreliable business: the club minute books are littered with examples of targets not playing or even fixtures not taking place. Directors were quick to follow up letters from the public recommending men in far flung Scottish, Irish and southern locations, only to return glumly from another exhausting trip to report "Not for us" or "Not of our standard". This was not science.
Ex-Red Geoff Twentyman, the subject of this interesting new book, became chief scout at Liverpool under Shankly in 1967. Twentyman clearly took time to settle because his manager was in the middle of a trophy drought which lasted until 1973. Sadly his existing diaries date only from 1970, but we learn the first player Twentyman recommended to the club was Bolton's Francis Lee. He was never signed and the much inferior Alun Evans came instead. We get no real insight here into the complex process of making these signings – the links in the chain between the local contact, the scout, the manager and the Liverpool board. One wonders if Twentyman was a fan of Sheffield Wednesday's Jack Witham, who signed for the Reds for big money in 1970 and then disappeared without trace.
Scouts were not overly descriptive or detailed in their assessments – or even especially accurate. Twentyman says of the young Kevin Keegan: "A good player; shows a lot of promise." Not a lot to go on there. Of Alan Hansen he says: "Gives the impression that if faced with quick forwards would struggle." Maybe the get-out phrase here is "Gives the impression". Hansen was just playing with his opponents (and the scouts). Because of the brevity of these assessments the diaries and their significance remain a rather elusive issue. Inevitably Twentyman is intuitive rather than analytical and much of the book is taken up with contributions from players both signed and rejected by Liverpool between 1967 and 1986. The hesitant young Kevin Beattie never even made it out of Lime Street station.
The key thing Twentyman looked for in a player was a "clean kick" (Ryan Babel need not apply). He also describes how Phil Neal impressed him because, like a golfer, Neal could deliver chips, long shots, floated deliveries or driven balls – and with both feet. This book reaffirms that Geoff Twentyman was a great Liverpool servant in an era when a scout's eye for talent and a few pithy handwritten words could still help shape a football dynasty.