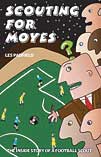 The Inside Story of a Football Scout
by Les Padfield
Sportsbooks, £8.99
Reviewed by Pete Green
From WSC 291 May 2011
Scouting is one of those activities that runs in the background of football, like a virus scanner, mostly unseen, but with a key role to keep the other stuff working smoothly. Les Padfield's Scouting For Moyes offers an diverting glimpse into the underworld of hastily scribbled player reports and complimentary sandwiches and, in so doing, goes further than many football books to shed fresh light on other aspects of the game.
It's not the stories in their own right that necessarily compel. True, some are absorbing enough, as Padfield's work (mostly for Gary Megson and Colin Harvey at Bolton, rather than David Moyes) takes him to eastern Europe, Africa and back to the lower divisions of England and Scotland. Any writer who has travelled enough to hear Charleroi supporters singing "You're not very good" to the tune of Knees Up Mother Brown will have some worthy tales. Padfield tells them well and there's enjoyment to be had in the ongoing riff of scouts' quiet exasperation at the follies of the managers they work for.
Other anecdotes, though, fall squarely and flatly into the "you had to be there" category. The author's computer goes wrong and he forgot to save his work but he manages to get it back. He goes to Oxford and can't find a bus to the football, so arrives with only ten minutes until kick-off. And if the individual stories are sometimes less than compelling, there is also a feeling in places that they don't quite coalesce. A thread runs through the 2009-10 season, interspersed with flashbacks, but nearly 80 short chapters sit within 300-odd pages. Towards the end the author's visit to the 2010 World Cup forms a culmination of sorts, but mostly the sense is of nattering idly with a man in a pub. This is not a failure per se – many of the world's greatest stories are told by idle men in pubs – but it makes for pages that read better when dipped into than approached sequentially.
What makes Scouting For Moyes readable is the author's willingness to condemn the vanity and greed that lay waste to the modern professional game. Where so many players' and managers' biographies hold back for fear of "burning bridges", Padfield lays in with relish. And, as a teacher in his day job and a poet on the side, he does it with a withering turn of phrase. Didier Drogba and Craig Bellamy, to name just two subjects of his ire, are "undoubted masters of their art but the kind of people I don't want at my funeral".
Ultimately, the book derives real purpose from the author's powerful sense of right and wrong. This is nowhere more in evidence than when Padfield hears harrowing tales of poverty from a visit to Ghana by his fellow Bolton scout Terry Darracott, then watches a first-team player, kitted out in regulation designer suit and gold ear stud, leave Bolton's training ground in a Ferrari, "and Terry's stories suddenly feel like a huge lump of vomit". Amid the sickening amorality of the Premier League era, Padfield's ethical discernment does football an even greater service than his eye for a player.