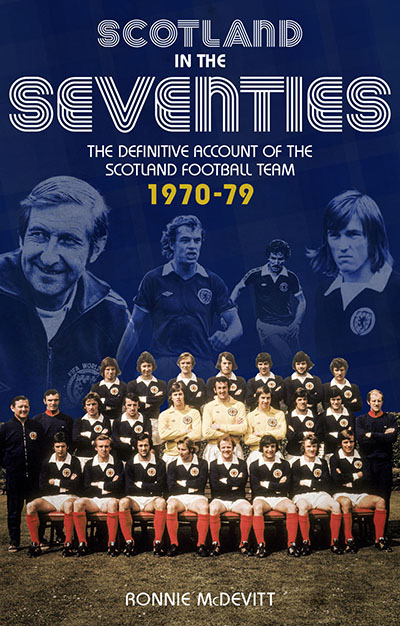 By Ronnie McDevitt
Pitch Publishing, £12.99
Reviewed by Archie MacGregor
From WSC 389, August 2019
Buy the book
If the past couple of decades have been largely about an unforgiving and unsuccessful slog in Scotland's attempts to qualify for a major finals and restore some international prestige – for the men at least – the 1970s were by contrast a period of near untouchable highs and unspeakable lows. In fact, condense it down to the five years from 1973 to 1978 and you have what amounts to a turbo-charged joyride through almost every conceivable emotional landscape that it's possible for a committed supporter to experience.
Ronnie McDevitt's book is a wonderfully chronicled tour guide through the carnage of the national team's soul in the aftermath. Knowledgeable and well researched, there are points at which you catch yourself gasping at the sheer madness of it all, along with not a little pining for some aspects of an era which seem utterly naive and quaint.
The realities in terms of hard stats, heady successes and abject failures are well enough known. Joe Jordan's match-winning goal against Czechoslovakia that sent Scotland to their first World Cup finals in 16 years in West Germany – sound-tracked by the near-maniacal "It's there!!!" commentary of STV's Arthur Montford – was the starting gun. The humiliating nadir of a 1-1 draw against Iran in Argentina and the Tartan Army flicking V-signs at Ally Macleod and his players – notwithstanding Archie Gemmill's subsequent wonder goal against Holland – was the final curtain, a denouement that had implications for the national psyche well beyond the football field.
What makes this such an enjoyable retro-trip is being reacquainted with features of the game which nowadays could only be regarded as verging on the ludicrous. Scotland playing three Under-23 games in the space of 16 days in January 1972, for example. Blackpool refusing to release Tony Green for a squad call-up due to their involvement in the Anglo-Italian Cup final. A home international against Wales being scheduled for the same evening as Rangers played Dynamo Moscow in the Cup-Winners Cup final, meaning that the stony-faced SFA hierarchy refused to countenance a live transmission of the latter.
Of course it wasn't all quirky and surreal. McDevitt presents an honest and balanced account of the indefensible behaviour of some Scotland supporters on their biennial trips to Wembley which seemed to worsen as the years progressed, and was not confined to smashing goalposts and ripping up strips of turf – serious assaults, trashing premises and all sorts of grim anti-social activities were perpetrated by a few but often condoned or laughed off by many. A younger age profile among the travelling support is attributed as a factor and a lengthy list of incidents in and outside London after the 1979 game signposted the beginning of the end for the world's oldest international fixture.
Players were also guilty of letting themselves and the team down, as references to drink-fuelled misdemeanours across the continent from Largs to Copenhagen remind. It was no coincidence that as a tumultuous decade faded away Scotland had the sobering presence of Jock Stein at the helm. The party wasn't over, but it had to be run in a different way.