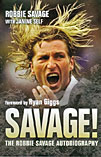 The Robbie Savage Autobiography
by Robbie Savage with Janine Self
Mainstream, £17.99
Reviewed by Joyce Woolridge
From WSC 286 December 2010
"I have probably watched every adult movie ever made. There's not a lot else to do on Wales duty!… It was the only way to while away a little time when intense boredom set in." Beetroot can turn your pee red. Robbie Savage didn't need to shave until he was 22. He has a big hooter. Steve Claridge is one of the best dancers he has ever seen. At Leicester his team-mates labelled his sillier comments ("What train did the Krays rob?") "the Savisms" and here rattlepate Robbie quite entertainingly reveals every inconsequential detail in his own distinctive style.
Others have talked briefly about what it was like to be an apprentice at Man Utd in the early 1990s, but never before has the regime of dares and ritual humiliations inflicted by elders been explained quite so clearly. Future United stars (and Savage) are baked in tumble driers, simulate sex with mops or lie with their head dangling over the treatment table while someone kicks a ball at it. They distract themselves from that ever-looming threat of boredom by roasting on sunbeds (not Paul Scholes), haunting the bookies (Keith Gillespie), or winding everyone up (Savage).
Savage tries, often endearingly, to be self-deprecating, though he overdoes the lampooning of his infamous obsessions with his appearance, love of flash cars and what he sees as his overachievements in football. And, he can understand absolutely why people might find him irritating, especially when he sticks his fingers in his ears and goes "Na, na, na na, na" during arguments.
Robbie reckons Lothar Matthäus might be the most famous person in football he has wound up, but there is a very long list. He is unapologetic about his confrontational style of play, bookings and, on occasion, diving. Although he once spent a night in hospital misdiagnosed with concussion because he genuinely didn't know the prime minister's name, he is a keen student of football and draws shrewd comparisons between the regimes of the various Wales managers.
Just when the book is starting to grate, it suddenly shifts into a darker and altogether more compelling register. Savage breaks his leg and a move to Derby proves a disaster. The account of how he failed to cope with either, crying throughout on the plane home (not through pain but fear that he might never play again) and receiving treatment for depression is raw and acutely painful. Again, because he leaves nothing out for appearance's sake, the true extent of his condition is exposed – sitting blankly on the sofa, phoning his agent compulsively, plagued by psychosomatic headaches, chest pains, stomach cramps and not even washing his hair, for days. Farcically, and with admirable tactlessness, the Derby chairman suggests he contacts Ant and Dec to get "a place in the jungle" because no one else wants him.
It all ends well, with Savage's shattered confidence and self-esteem rebuilt by Nigel Clough and a burgeoning career as a radio pundit, as well as making a fair stab at convincing the reader that there is actually more to Robbie Savage than "the hair, the designer clothes, the cars and the tan".