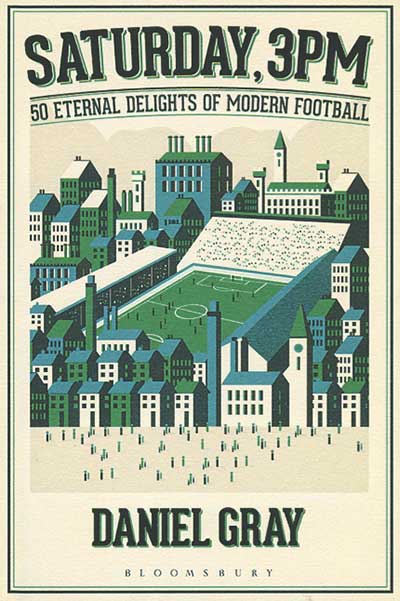 by Daniel Gray
Bloomsbury Sport, £9.99
Reviewed by Tom Lines
From WSC 358, December 2016
Buy this book
Daniel Gray may not be the first person to experience a life-changing epiphany in the back room of a Wetherspoons in Middlesbrough but he is almost certainly the first to get a book out of it. In the introduction, Gray recalls that afternoon on Teesside as a low point in his football-watching life, wondering why he even bothers any more "beyond the fact that I am locked in an abusive, one-sided relationship with my team".
But on the bookshelves of the pub, Gray stumbled across a copy of Delight, JB Priestley's collection of essays published in 1949, in which he sought to write his way out of post-war despondency by exploring the comfort to be found in everyday pleasures.
Inspired by Priestley, Gray resolves to rehabilitate his own relationship with the game by attempting something similar as he seeks to remind himself (and the reader) why fans fall in love with football in the first place. None of the 50 subjects he explores is much more than 500 words, yet each is a precision-tooled delight.
The book's jacket describes them as "short essays of prose poetry" but even this doesn't quite do them justice; these are love letters more than anything. But as the author is quick to point out this is not an exercise in damp-eyed nostalgia – each "eternal delight" qualifies by virtue of its continuing ability to lift the spirits.
A quick scan down the contents page is enough to raise knowing smiles and it's Gray's ability to identify the more arcane pleasures that will delight readers. Titles such as "Brackets in scorelines" and "Fat players" promise much and don't disappoint, while even apparently obvious subjects such as "Getting the fixture list" and "The first day of the season" are described with such lyricism that the everyday is routinely transformed into the sublime. The "soothing symmetry" of a Sunday supplement results section is "like looking at motorways from a night-time aeroplane", while shots cannon off the bar "in unpredictable directions like a welder's sparks".
Even if Gray is preaching to the converted, it's a seductive sermon. The highest compliment I can pay is to say that this is not a book to be read at any length. Like a kilo of chocolate truffles or a compilation of Matt Le Tissier's best goals, prolonged exposure leads to a kind of giddy reverie that had me frantically scanning fixture lists to find a game – any game – to attend as soon as possible.
In an age where the predominant emotion associated with football seems to be a sort of perpetual whirling anger, here is a book that contains nothing but pure, unadulterated joy. As Gray reminds us, football still has the ability to "charm you daft". If we sometimes lose sight of this fact, and heaven knows there are enough things sent to test our patience, this is one of the first remedies to reach for.