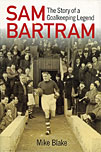 The Story of a Goalkeeping Legend
by Mike Blake
NPI Media, £14.99
Reviewed by Tom Green
From WSC 246 August 2007
Every club has its legends. In modern times the player most loved by Charlton fans has been Derek "Killer" Hales, a man whose fighting spirit came to epitomise the Addicks' struggle to survive. For the previous generation, however, the undisputed hero was goalkeeper Sam Bartram.
He grew up in County Durham and, after several false starts to his professional career, signed for Charlton in 1934. He was to remain at The Valley for 22 years, making 623 appearances, during which time Charlton went from the Third Division to challenging at the top of the First and won the FA Cup in 1947.
Mike Blake's book is a thorough record of Bartram's career. If it feels slightly ­old‑fashioned – there's little glamour here and certainly no scandal – that's largely because Bartram was an old-fashioned kind of footballer. He was, in the words of sportswriter Mike Langley, a "sandy-haired acrobat who never lost his enjoyment for the game or gratitude to it for pulling him out of the mines in County Durham".
Blake is, by his own admission, a Bartram fan. He has done a great deal of research, most of which seems to have ended up on the page, and had assistance from Bartram's family and former colleagues. It might not make for a gripping read (personally, I didn't need to know the full line-up for the England trial in 1937), but it's certainly comprehensive.
The real joy of the book is the photographs. From the beautifully finished front cover to the numerous action shots and family snaps, they tell the story of Bartram's career and pre- and post-war football better than the facts and figures. The quality of the reproduction is, almost without exception, terrific and they capture Bartam's famously all-action style.
The photos are also a nostalgic reminder of old-fashioned terracing. In the background of almost every shot looms a huge bank of tightly packed fans, creating that atmosphere of active participation that modern stadiums can never quite reproduce. It's especially good to see The Valley in its glory days, with the massive east stand helping push ­attendances to in excess of 75,000.
The book is, of course, a pleasure for Charlton fans from start to finish. Marvel at a time when our rivalry with Arsenal was one of the great London derbies. Revel in successive FA Cup final appearances. Hope that one day, somehow, we'll enjoy such glories again.
One thing lacking is a proper analysis of Bartam's goalkeeping style. Reference is made to his unorthodox approach, but it would be interesting to know more and to learn something about how the goalkeeper's role developed during his years in the game.
Mike Blake has not written an analytical book, however. Like the oversize statue of Bartram by Anthony Hawken that now stands outside The Valley, The Story of a Goalkeeping Legend is a tribute that is there simply to be enjoyed.