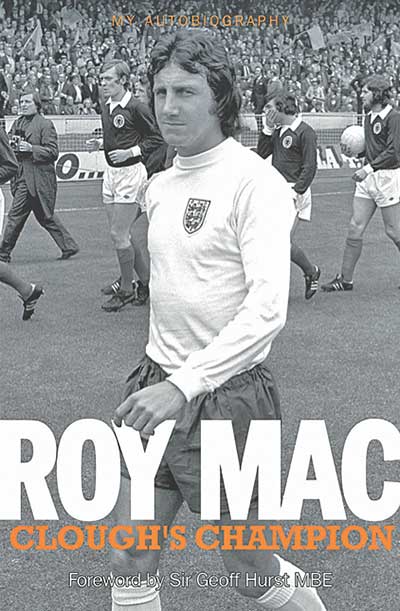 Clough's champion
by Roy McFarland and Will Price
Sportsbooks, £8.99
Reviewed by Charles Robinson
From WSC 331 September 2014
Following a home defeat to Reading and a couple of beers, the young Tranmere Rovers defender Roy McFarland goes to bed. A couple of hours later he is woken up by his mum with the news that "there's two men downstairs to see you, Roy, and one of them is Brian Clough". The other, of course, is Derby County assistant Peter Taylor. As McFarland enters the kitchen in his striped pyjamas, "looking like a convict", he finds that Clough has managed to charm Mr and Mrs McFarland, and the deal is already halfway done.
Roy is unconvinced and harbours hopes of playing for his boyhood club, Liverpool, but soon he will win two Championships with his new team, as well as 28 England caps in an international career cut short by injury. This is a player not unaware of his worth, not to mention stoical and unsentimental. Coming from a solidly affluent working-class background, McFarland initially rejects trials at Wolves and Tranmere, throwing away the invitation letters and instead taking up a job as a trainee accountant at a local tobacco company. The reader is left to wonder whether the game was in the young man's blood from the beginning, but any reflection has to wait as McFarland's career takes off.
And it really does take off. After signing as a professional with Tranmere on his 18th birthday, within a year he is captain of second-tier Derby, albeit for one initial game. In his second season the Rams are promoted and, already, McFarland can sense the "wind of change" blowing through the club. Soon, he is a Championship winner and England regular. Throughout, McFarland's affection for Clough and Taylor, but especially the former, is evident, even as Clough descends into alcoholism, a subject that McFarland doesn't shy away from and relates in the strictly matter-of-fact tone that characterises the whole book.
The event at the heart of McFarland's story is the resignation of Clough and Taylor in October 1973. His insider view gives a fresh perspective to an incident which still breaks the hearts of Derby supporters and, evidently, McFarland himself. As the news filters through, he admits that his emotions were "all over the place", thinking it "the end", only two days before England's 1-1 draw with Poland that meant they failed to qualify for the 1974 World Cup. However, he simply resolves to get on with the job under new manager Dave Mackay, and soon after wins another Championship and more England caps.
The final chapters detail McFarland's rather unspectacular managerial career, the highlights being a play-off final with Derby in 1994 and promotion with Burton Albion in 2009, having taken over from a Derby-bound Nigel Clough. As well as the short paragraphs and tales of dressing room "banter" that pockmark such autobiographies, the cliches and constant footballer-speak do grate. Like many of the matches detailed here, even McFarland's wedding is "a great success", and wife Lin puts in "a monumental shift" while giving birth to their first child. Nonetheless, the fascinating story of McFarland's rise largely alongside Clough and Taylor is enough to see Derby fans and Cloughie completists through to the end.