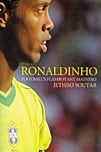 Football's Flamboyant Maestro
by Jethro Soutar
Robson, £9.99
Reviewed by Barney Ronay
From WSC 242 April 2007
"The importance of Ronaldinho's aura, his grace and charisma, cannot be overstated," writes Jethro Soutar halfway through this meticulous 90,000-word exercise in doing just that. Immaculately put together and perkily written, the only thing the book lacks is any kind of analysis of its subject to go alongside all the facts. Surprisingly, given its unofficial nature, there's no room here for Ronaldinho as anything but permanently smiling super athlete, a sporting brand defined by his umbilical, and highly marketable, link to the common myth-kitty of Brazilian football greatness. This is a shame because, as far as it goes, this is an energetic and comprehensive biography.
Even the early years are jauntily transcribed. We meet some standard footballer parents: minor athlete father and fearsome mother ("Dona Miguelino discouraged serious girlfriends"). Soon the young Ronaldinho is joining his first beach football team, New Kids, named after New Kids on the Block. It wasn't all football, though: "I remember he was very fond of watching television," recalls an aunt. He joins Gremio's junior ranks and from there pretty much instantly becomes Ronaldinho, an ersatz football celebrity at the age of seven. He recalls watching Brazil's 1994 World Cup win: "From that moment I was crystal clear about my objectives for the first time in my life." He was 13 at the time.
Among the incredibly detailed, and incredibly tedious, accounts of Brazil's state championship, there are the triumph at the Under-17 World Cup and an interesting back-story to Ronaldinho's current falling‑out with Brazil manager Dunga (Ronaldinho apparently "put a hat on" Dunga, ie dinked the ball over his head, during a big derby). There is also a long explanation of the passing of the Ronaldo/inho nickname dynasty, which contains perhaps the book's only joke, Roberto Carlos reasoning about his new team-mate: "I always call Ronaldo 'ugly', so I'll just call Ronaldinho 'hideous'."
Soon Ronaldinho moves to Paris, where his unfathomably luxurious house features not just a giant karaoke machine, but "a ping pong table in the garage". Then we're off to the 2002 World Cup, where the fluky free-kick goal against England is repainted as "a victory for Ronaldinho's optimism". In the middle of all this he won't stop bursting into tears: "trembling with emotion", crying "tears of joy" and breaking down in sobs on the victorious return from Japan and Korea.
Frustratingly, behind the goals, the tears and the grin, there are glimpses of interesting stories that got away. The furore at PSG when he smuggled a girl into his room under the nose of coach Luis Fernandez is over in a single paragraph; Ronaldinho on stage at the Club Bikini playing the bongos while "wearing a big mask" gets a mere sentence. Then there's a disastrously expensive carnival in his home town, featuring giant papier mâché replicas of his head, where his planned appearance has to be replaced at the very last moment by a Big Brother Brasil contestant.
The Barcelona section descends into a particularly fawning exercise in superstar worship. Frustratingly, again, on the periphery of this over-exposed 27-year-old there are some interesting characters. Wanderley Luxemburgo leaves the Brazil job after being accused of tax evasion, cocaine use and various rackets and kickbacks. Big Phil Scolari is pictured warming up for the Belgium game at the World Cup by "handing around a printout that detailed how and why geese fly in a V formation". You feel a book about these two might have actually been worth all the undoubted effort. As for Ronaldinho, you can get the idea just by looking at the pictures in the middle.