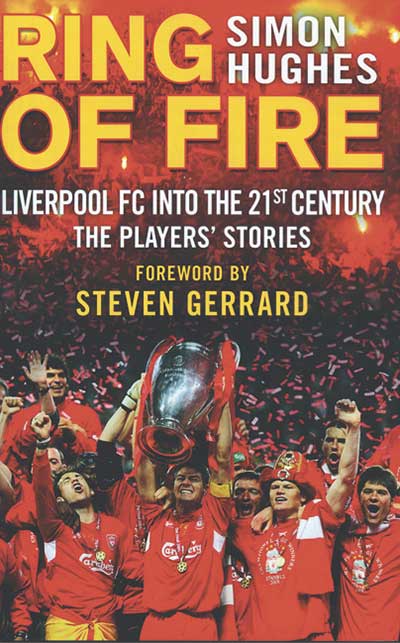 by Simon Hughes
Bantam, £18.99
Reviewed by Rob Hughes
From WSC 362, April 2017
Buy this book
Taken in sequence, Simon Hughes' Liverpool triptych feels like the slow, extended tumble of a once mighty empire. The first of these, 2013's Red Machine: Liverpool FC in the 1980s, detailed the glory years, while Men In White Suits: Liverpool FC in the 1990s found them struggling to compete in the Premier League era. Ring Of Fire, by contrast, is a more curious beast, charting the club's journey through a decade that see-sawed wildly between success and failure, exhilaration and despair.
The format holds firm to Hughes' previous books, the author corralling a selection of those involved in Liverpool's progress through the millennium, among them Jamie Carragher, Michael Owen, Gérard Houllier, Xabi Alonso, Didi Hamann and Fernando Torres. And while the narrative is there for all to see – from Houllier's treble-winning cup team of 2001 to Rafa Benítez's unlikely Champions League triumph, with various dips in between, followed by the near collapse of the club under the American ownership of Tom Hicks and George Gillett – it's the often revelatory nature of the interviews that makes Ring Of Fire essential reading.
This is especially true in Owen's case. For those whose view of the ex-striker has been coloured by the serial blandness of post-match interviews and his grating ineptitude on BT Sport, his candour and articulacy here comes as a pleasant shock. He talks of inner belief and the need to play "on the precipice of madness". Desperate to reunite with Liverpool after a season with Real Madrid, he admits to being in tears when the club's budget couldn't match that of Newcastle. His worst moment was being booed on his return to Anfield, while his controversial move to Manchester United was the "cold, hard choice of a careerist".
Owen's story is a reminder that footballers are defined by how they're remembered as much as how many medals they've won. It's a factor that Torres seems acutely aware of as he reflects on fan worship at Liverpool – "They made me feel like a king. I really felt like I could do anything" – before the deep rancour that followed his shift to Chelsea. Subject to supporters' unwavering abuse from then on in, things finally change when he shows up at Anfield for a charity match in 2015 and the Kop starts chanting his name: "Maybe this was the happiest moment of the last five years for me."
Elsewhere, Houllier equates his football obsession to a virus, changing the club's methodology and yanking it into the modern age, with an emphasis on collective responsibility. As Carragher points out, Houllier's Liverpool teams weren't pretty on the eye, but they made sure the job was done.
Carragher is particularly impressed by his aggression and intensity, though both men concede that the manager's judgement started to fail him after he returned from a heart attack in early 2002. In a classic piece of understatement, Houllier recalls the signing of El Hadji Diouf that summer with resigned simplicity: "We could have done better." This is nothing, of course, when you consider that Benítez wanted to replace Alonso with Gareth Barry. A fascinating and frustrating tale from man to man.