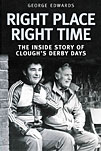 The inside story of Clough's Derby days
by George Edwards
Tempus, £12.99
Reviewed by Terry Staunton
From WSC 250 December 2007

Brian Clough was football's first great multi-media star, an endlessly quotable mouthpiece whose fame and notoriety stretched far beyond the sport itself. He was a constant subject/target for TV impressionists, and his profile was so high that he was an obvious and welcome guest on Parkinson at a time when the show was awash with A-listers of the calibre of Robert Mitchum and Orson Welles.
It's frustrating, therefore, that such a fascinating and charismatic figure doesn't actually appear in a book with his name in the title under we're a good quarter of the way through. For this is not so much a biography of Brian himself, more the disjointed memoirs of a Derby newspaper man who, for several years, had more one-on-one contact with Clough than any other journalist. Edwards was sports editor of the Evening Telegraph throughout Clough's time at County, but he was an "insider" with fairly clumsy anecdote-telling skills, so frequently fails to put across the atmosphere and intricacies of what were potentially great yarns.
Part of the problem is that Edwards' writing rarely rises above the average, his prose littered with the bland idiotspeak typical of regional newspapers. His attempts to put Derby (the city) into context with the rest of the world are laughably banal. True, there was something unavoidably insular and parochial about his home town in the Sixties, but to suggest the locals were near oblivious to global events (the JFK assassination, the moon landings!) borders on the insulting.
There is a charm to stories about Clough's behind-the-scenes skulduggery in putting together a squad who ultimately became League champions, not least his comically underhand approach to signing relative unknowns such as John O'Hare and Roy McFarland. Visiting the players at home, Clough would fake phone calls to his chairman to give the impression that he had carte blanche to hike up transfer fees (the difference between 20 grand and 25 was an absolute fortune in the late Sixties), behaviour that was so much more easily executed in the days before the microscopic attention of a forceful national print media or Sky Sports News.
But although Edwards had a front-row seat to such machinations, literally sat next to Clough on the team bus, there's little in the way of direct quotes from the man himself. Edwards opts to tell each story in his own words, through a dull filter that reduces events to the monosyllabic hearsay of pub chatter.
Even the more contentious and controversial incidents, such as assistant Peter Taylor's allegations of the bribing of officials during Derby's European Cup semi-final with Juventus, are dispensed with in a couple of paragraphs, and the management duo's ultimate departure from the club is mentioned almost in passing, as Edwards concentrates on writing about his own career and his imminent move to pastures new at the South Wales Evening Post. As early as the second paragraph, Edwards suggests that what is to follow is an access-all-areas account of "the club's greatest era", but such a monumental period in Derby's history deserves to be chronicled in more detail and with more deference.