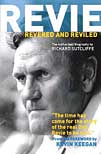 Revie Revered And Reviled
by Richard Sutcliffe
Great Northern Books, £16.99
Reviewed by Duncan Young
From WSC 291 May 2011
Keep Fighting The Billy Bremner Story
by Paul Harrison
Black and White, £14.99
Reviewed by Duncan Young
From WSC 291 May 2011
Don Revie and Billy Bremner, manager and captain of the triumphant Leeds Utd team of the 1960s and 1970s, are inseparable in the public consciousness. There's also the idea of an unshakeable bond between them and, not far under the service, the suggestion that their success was sinister and tainted. The Damned United reanimated their pantomime villain incarnations, but feelings of injustice have inspired some authors to try to counter these perceptions and highlight what was good about both men.
Both subjects passed away some time ago, but Paul Harrison's volume draws extensively on interviews he conducted with Bremner and originally elected not to publish in the wake of the latter's death in 1997, while Sutcliffe's work weaves in a plausible cast of former players and staff, but also the recollections of Revie's children, Duncan and Kim. Although the main storylines will be very familiar to Leeds fans, in both books this access succeeds in providing some new angles.
Harrison's book benefits from offering Bremner's views in the raw and does not flinch from displaying both the commendable and unsettling aspects of his single-mindedness. The interview material is interrupted only briefly for links and some evocative recollections from the author, though, frustratingly, Bremner's time as manager at Leeds is almost entirely omitted.
Sutcliffe sprinkles the junior Revies' comments throughout to useful effect and shows how early influences both inspired their father's ground-breaking analytical approach to football and fuelled his fear of financial insecurity. One chapter focuses specifically on Revie's vital partnership with wife Elsie, how that underpinned his highly effective family style of club management and how dad's job necessitated Duncan being sent away to boarding school to escape the magnetic pull of Elland Road. Kim, meanwhile, grew to understand why it was always going to be her dad picked out from the circus crowd to be stepped over by an elephant.
What's noteworthy is how little each book actually features the other protagonist. Harrison shows Bremner had a very clear vision for his career and who finds in Revie someone whose judgement he trusts and, given regular success, never needs to doubt. He also records that Revie initially turned for a captain to Bremner's pal Jack Charlton, acknowledged in both books as the real top dog in the dressing room. However, the responsibility of being a public figurehead didn't suit Charlton. Revie could then appoint Bremner, whom he believed all along would be galvanised by the duty.

Even so, Peter Lorimer suggests that, although Bremner was the team's emotional leader, it was Johnny Giles who everybody saw as the manager's real on-field lieutenant, a suggestion borne out by Revie's eventual recommendation of Giles, not Bremner, as his successor. Eddie Gray tells Sutcliffe that captain Bremner applied separately, the Leeds directors apparently backed out of choosing between them and instead infamously decided Brian Clough might keep things in hand.
Although neither book contains stunning revelations, they are both enjoyable reads and succeed in giving those outside Leeds' core support in particular a favourable yet reasonably balanced portrait of United's legendary duo.