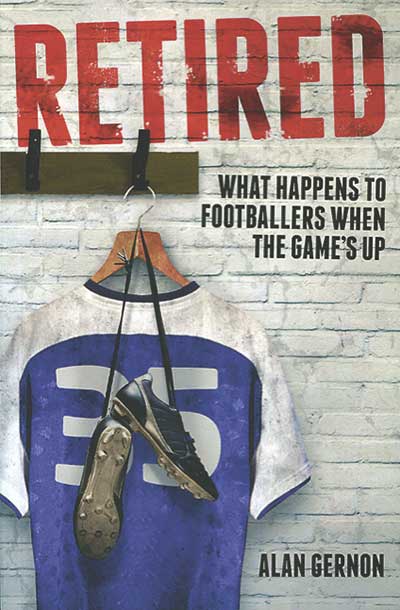 What happens to footballers when the game's up
by Alan Gernon
Pitch Publishing, £9.99
Reviewed by Tim Springett
From WSC 356 October 2016
After reading the back cover blurb, where this account of footballers' lives is described as "the ultimate where are they now", one is prepared for a horrifying catalogue of alcohol and drug addiction, marriage break-ups, disability, bankruptcy, prison sentences and suicides. Perhaps fortunately, the content doesn't truly warrant this apocalyptic preview.
It is divided into chapters covering the principal themes, followed by some more uplifting accounts of players who have either remained involved in football or successfully pursued new careers. Alan Gernon has interviewed numerous ex-players and their stories are consistently well-told, candid and pertinent. Unfortunately, the author's own narrative appears to seek to lighten the mood by throwing in diversionary anecdotes and snippets of information. Few of these add value and they generally feel out of place and flippant among the weighty subject matter.
The concept behind the book is very worthy, but the impression is of a story half told. A section on dementia in ex-players devotes many pages to the well-publicised case of Jeff Astle but no other examples are cited. There is no mention of the three 1966 World Cup winners who have been diagnosed, or of ex-Southampton centre-half Kevin Moore, who died aged 55 after suffering from dementia. Hence nobody who has read the extensive media coverage of Astle since his passing in 2002 will learn much.
Similarly, a chapter on bankruptcy includes generalisations about levels of players' wages, as distinct from earnings which would include win bonuses and the like. It comments that UK pension laws restricting the sums that high earners can deposit in pension funds, coupled with the fact that players would look to take pensions while in their 30s, mean they may be easy prey for unscrupulous types proposing dubious investment schemes. Some well-known players who have declared themselves bankrupt are named but one is left wondering how typical – or exceptional – such cases are.
There is also a lament that players in former times had a close connection with fans, who in turn were more able to identify with players. Why this is relevant is not clear, at least until a later passage that looks at the lack of public sympathy for former footballers. Gernon suggests that it is because the public likes to remember their heroes as they were in their pomp, when arguably a general disdain for players, founded on jealousy, may be nearer the mark. Meanwhile poor research probably explains the error in describing the case of Gary Speed as a high-profile suicide – this was not the coroner's verdict at the inquest into his untimely death.
Gernon suggests that football clubs, the FA and the PFA ought to do more to help players adjust to life after playing but does not explore this theme in sufficient depth to draw any worthwhile conclusions. The book ends on a reasonably positive note with a thoughtful contribution from Pat Nevin – but ultimately falls short of its own billing.