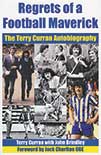 by Terry Curran 
with John Brindley
Vertical Editions £16.99
Reviewed by Andy Hockley
From WSC 317 July 2013
The blurb on the inside cover of this book ends with the words "Warning: Terry Curran's story may offend the politically correct". This, coupled with the dreaded word "Maverick" in the title, meant that I approached the book with trepidation.
Happily, I can report that in this case first impressions are wrong. Terry Curran is an engaging story-teller, who chooses to focus on a few interesting periods of his career rather than just launch into a tedious retelling of the whole. He's perhaps best remembered for his spell at Sheffield Wednesday and especially for his role in the legendary 1979 "Boxing Day Massacre", when a record 49,309 turned up for a Third Division match at Hillsborough to see top-of-the-league Sheffield United dispatched 4-0, in a match which Curran dominated, scoring one and setting up another. But ultimately he was a journeyman, playing at 16 different clubs in his all-too-short career. Twice he even managed what few do once, transferring between bitter rivals – from Nottingham Forest to Derby County and from Wednesday to United.
Such was his promiscuousness that he ended up playing under a virtual who's who of late 1970s and early 1980s management. Brian Clough, Tommy Docherty, Lawrie McMenemy, Jack Charlton, Howard Kendall and a considerable number of others had what would appear to be the dubious pleasure of attempting to get the best out of the talented but lippy Curran, the self-styled "poor man's George Best".
In many ways this is where the book succeeds – providing a glimpse into the experiences of playing under all those managers with their vastly different playing styles and approaches to man management. The chapter on Clough is particularly rich and it's clear that Curran had a huge amount of time for him. This didn't stop the headstrong (sorry, maverick) Curran walking out on Forest just when they got to the First Division. Other former bosses are described significantly less positively, most notably McMenemy.
Curran is not averse to listing his mistakes, though since most of the titular regrets are related to walking out on clubs where he felt he was not getting enough playing time, it is notable that he never really addresses the question of why that might have been. You didn't necessarily have to be a top manager to find him a frustrating player at times.
In case you were wondering about that initial warning, it's actually quite difficult to know what exactly we are being alerted to. I can only suppose that it relates to Curran's womanising and "PC" is being used to mean "prudish". But there's nothing here that could be described as offensive, even to those of us with a sensitive disposition.
It's hard not to warm to Curran, despite his admitted failings, and by the end of the book it's gratifying to find him happy and fulfilled and working as a youth coach at Doncaster Rovers, musing on England's lack of success. Rather than, say, following in the footsteps of the real George Best.