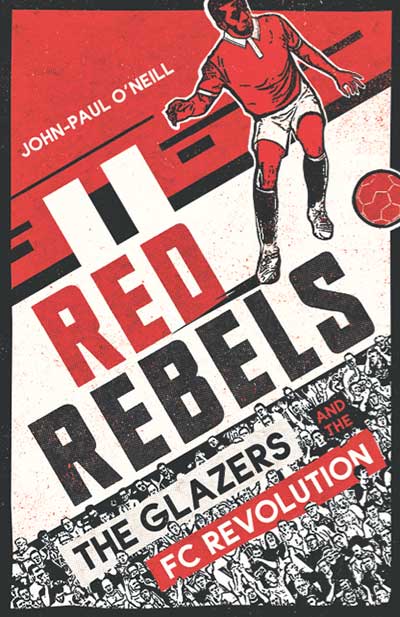 Yellow Jersey Press, £14.99
Reviewed by Rob Kemp
From WSC 372, February 2018
Buy the book
"Revolutions only effect a radical improvement when the masses are alert and know how to chuck out their leaders as soon as the latter have done their job." This quotation – from George Orwell – is aptly used by John-Paul O'Neill at the conclusion of his exposé on the running of FC United. What begins as a hope-fuelled guide to starting a team from scratch turns into a crime sheet of mismanagement as O'Neill attempts to evidence how ironically dis-united the fan-made club became.
The author opens by relaying the reasons for the rise of the Red Rebels. He links their roots back to Munich 1958 when one of the disaster's lesser-known victims, prospective director Willie Santinoff, was replaced by Louis Edwards. Edwards' son, Martin, was the chairman whose stewardship of United paved the way for their takeover by the Glazers in 2005.
O'Neill then details the efforts he and his fellow founding fathers went to in order to build something positive from the rage the Glazers' buyout had triggered. These anecdotes are refreshing and inspiring in their determination and naivety: "Our only experience of recruiting a football manager was based upon whether we liked him or not." He also recounts pub get-togethers to decide on a name and kit design, the lobbying of local teams and local authorities in a bid to get a ground to play at and even door-stepping Roy Keane when attempting to obtain some high-profile backing. Soon after playing their first competitive North West Counties League fixture – a 5-2 win at Leek CSOB in 2005 – FC United's defiant stance over such issues as kick-off time changes and overpriced season tickets saw them held up as a template for all fan-run clubs to follow.
Then the Orwellian tragedy kicks in. An increase in the price of the matchday programme for a friendly against Benfica in 2015 escalates growing discontent among fans towards the club's administrators. The bitter relationship breakdown which follows is all too reminiscent of the reason FC United came to be in the first place. Often it feels as if O'Neill – whose protests led to him being banned from the club he created – looks to set the record straight, especially in his dealings with the general manager Andy Walsh. He accuses Walsh and other board members of ditching ethos for commercial gain among other acts of betrayal.
Despite the team's on-field success, including several promotions to their current National League North spot, the accusations of boardroom cronyism, selling out and creating a purpose-built ground that's unfit for purpose culminates, in 2016, with several departures including Walsh's. In the end the details of the bust-ups – which vary from petty in places to positively sinister at times – mean that it's only the barely mentioned amateur footballers of FC United, playing their way up the football pyramid, that come out of this saga with any credit.