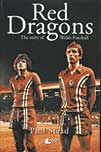 The story of Welsh football
by Phil Stead
Y Lolfa, £14.95
Reviewed by Huw Richards
From WSC 319 September 2013
The condition of Welsh football is often serious but never dull, and the same can be said of Phil Stead's engagingly readable chronicle. It is history as one thing after another, stronger on anecdote than analysis. The prose is more solid than stylish but with flourishes such as the characterisation of Jerry Sherman, briefly and disastrously Newport County's owner, as having "the shifty-eyed evasiveness of a potion seller at a wild west show".
Clubs are not neglected. We learn how Wrexham got their "Robins" nickname, that Cardiff possibly sacrificed the 1924 League title to Wales call-ups and that West Ham's "Bubbles" anthem may have been borrowed from Swansea – but this is essentially the story of the Wales team and the Football Association of Wales (FAW).
The anecdotal style works well in the early years. It introduces debonair goalkeeper Leigh Roose, who dated music hall star Marie Lloyd and conceded a Scottish winner because he was talking to a spectator, and an earlier keeper who played against England with his forearms in plaster. There are two one-armed players, a schoolmaster accidentally shot dead by a pupil and evidence of the national surname shortage, with different players called Oswald Davies on consecutive pages. One FAW secretary is imprisoned for forgery and its second president is sacked for providing insufficient support – he was the nephew of the MP and magistrate who became founding president after licensing a pub lock-in at the first meeting.
Running themes do emerge. The FAW are perennially skint, so opt for income over team priorities in locating key qualifiers. They are beset by English club obstructionism over player release, localised factionalism – Oswestry v Wrexham prefiguring Swansea v Cardiff – and they treat Llanelli's ambitions as unsympathetically in 1958 as in 2013.
They are baffled by foreign travel. Players routinely forget passports and it is hard to forgive the official who could have averted Vinnie Jones's Wales debut, but let him play with limited documentation. The infamous incident when player Gil Reece was bumped from a flight packed with committee men is merely the culmination of traditions exemplified by taking only 18 players, but 25 officials including the FAW secretary's sister, to the 1958 World Cup. And then there are the qualification near-misses, that litany of dodgy Scottish penalties and doped-up Russians for which the sad but inescapable explanation is that even good Wales teams are usually not quite good enough.
Red Dragons really should have an index but there are few factual glitches. Stead elevates Wrexham to Division Two 45 years too early, while the Trevor Ford who gave vital evidence at the manslaughter trial after a South Wales Transport player died on the pitch in 1934 was almost certainly not the rumbustious centre-forward, ten at the time, but his father.
But these are minor quibbles. Stead doubtless once dreamed of playing for Wales, but with this book serves his nation better than many who achieved that ambition.