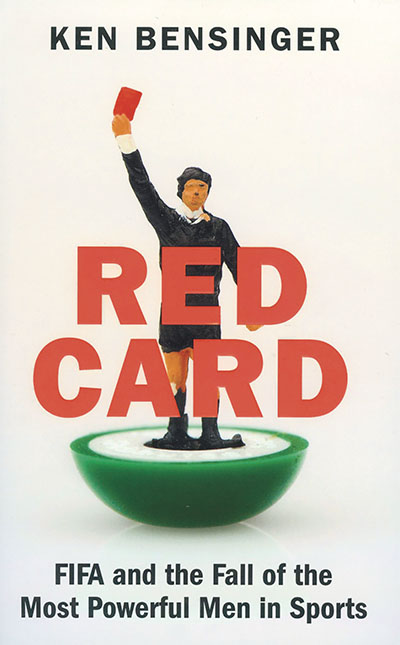 Profile Books, £16.99
Reviewed by Rob Kemp
From WSC 382, January 2019
Buy the book
All who've followed the fall of FIFA's corruption-riddled cabal will be familiar with the cast – Chuck Blazer, Sepp Blatter, Jack Warner, Mohammed bin Hammam et al – and the crimes. But in Red Card, investigative reporter Ken Bensinger documents the mammoth task of "following the money" through a five-year investigation by FBI and IRS prosecutors. It's the author's journalistic approach, coupled with the eye-watering scale of the criminality involved, which makes this tale of spreadsheet specialists bringing down FIFA a genuine page-turner.
The tone is aimed at American readers with an appetite for crime busting. Blazer is a "made man", a "caporegime" whose tax problems were found to be like "pulling someone over for a bum taillight only to discover a trunk stuffed with dead bodies". But Bensinger's breakdown of the bribes, back-handers and wire-tapped revelations will interest any football fan who can handle reading just how vast, greedy and deep-rooted the whole racket was.
The book opens with Californian tax inspector and Liverpool fan Steve Berryman questioning why there are more FIFA Goals Programme funds being wired to the volcanic island of Montserrat (population: 5,200) than to two-time World Cup hosts Mexico (population: 125 million). It soon expands into the worldwide trail of fraud and deception going back decades. From Buenos Aires to the Kremlin via the Caribbean, Trump Tower and Qatar, the work involved in building one of the most ambitious investigations into international money laundering ever is only matched by the extraordinary amounts being pocketed by those on the take.
The "flipping" of Blazer to make him the FBI's chief informant was pivotal to the investigation and Bensinger doesn't skimp on the details when it comes to the corpulent Concacaf general secretary's penchant for taking a ten per cent cut of any cash that crossed his desk. Blazer's relationship with Donald Trump, his betrayal of Warner and reliance on a fleet of mobility scooters to get around do nothing to restore an already rotten reputation either.
Andrew Jennings, one of the most persistent reporters to take on FIFA, is rightly credited here too. It was Jennings' publication of a cheque paid to Blazer – via a US-registered bank – that finally gave the FBI the breakthrough they needed. Subpoenas soon followed, empowering Berryman and his team to expose how hundreds of millions of dollars had been siphoned away from the game to grease the palms of those signing off sponsorship contracts and rights packages.
One by one Bensinger describes how Berryman built fraud, racketeering and money laundering cases against the most powerful men in the game; from Jeffrey Webb, appointed by Blatter to clean up FIFA, who then orchestrated his own $10 million (£7.7m) bung, to José Hawilla, the marketing fixer who took $151m in bribes and kickbacks. The dawn raids in Zurich and resultant US trial are well covered, leaving true fans of the game with a detailed police perspective on the whole scandal along with a feeling of having been well and truly robbed.